Lie to Me Review: "Beat the Devil"
Jim Garner at .
Welcome back to Fox, Lie to Me!
On "Beat the Devil," this show's summer season kicked off with a great murder mystery and a light-hearted UFO mystery. 
I truly enjoy watching Tim Roth as Cal Lightman. I think the combination of his British accent with the character's straight forward bold confidence makes for a very powerful character.
This week's episode also included a little flash from the past, as Professor Helen Dezekis has a history with Cal, which we learn through the episode was very intimate for him. While he downplayed the aspects of the relationship they had 23 years ago, both Gillian and Helen felt he went after Martin because of some sort of jealousy issue over his "replacement."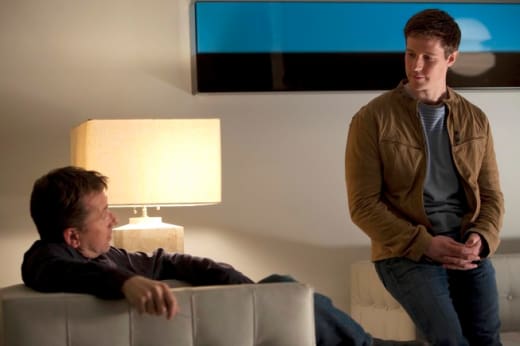 As always, Cal knew how to read the signs and knew how Martin was going to think.
On the flip side of this episode, it felt to me like Gillian has been more of a tag along than she used to be. I miss the days of her being mixed up with her ex-husband and the drama around that storyline. I love Kelli Williams and hope that Samuel Baum brings her back to the front burner a little more, as she is an amazing actress and I would like to see Gillian developed more.
Finally, I do want to say it was great seeing Howard Hesseman making a guest appearance. I still can't help but point and say "Hey! It's, Dr. Johnny Fever!" even now when it is going on more than 30 years after WKRP first aired. Rock on Howard!
So what did you think of this week's episode? Do you want to see more of Gillian? Is Cal Lightman infallible? Comment away!
I'll leave you with a few Lie to Me quotes from the hour:
Ria Torres: Must be hard to be somewhere 30 years and trying to make sense of all of this.
Sam Hendricks: What's hard is they confuse growing old with growing stale. | permalink
Martin Walker: A good chess player thinks five moves ahead.
Cal Lightman: Great chess players only think one move ahead, but it's always the right move. | permalink
Ria Torres: You really want to take this case?
Eli Loker: What, is the guy and eccentric? Yes, big time. But so am I, have you seen this shirt. | permalink
Cal Lightman: Here's the problem, Martin Walker is a psychopath and probably a killer. Just though you should know. | permalink
Jim G. is a TV Fanatic Staff Writer. Follow him on Twitter.