Warning, bad pun ahead:
The Lie to Me episode "Sweet Sixteen" got off to a real bang. We got to learn a bit about how Cal and Gillian met and received great insight into why Cal does what he does now. 
As always, the writing kept me guessing through the entire episode. Angus Macfadyen as Jimmy Doyle was absolutely amazing. His presence was such that I totally believed that a man as confident as Cal Lightman could be afraid of him. There are not many actors that could have been put in that role and have succeeded so well.
The scene in the garage where Doyle walked up to Cal was so amazingly well done in their body language alone. Cal had his head bent down and away while Doyle was standing tall and confident. To really see how the body language impacted this scene, watch it again without the sound on.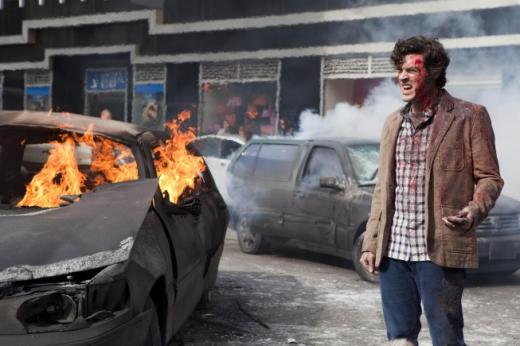 I had hoped that Doyle and Lightman would end the episode a bit close to each other. Of course, this show mirrors a bit more of real life in that Doyle walked away still hating Lightman, but feeling he had paid for his part in his wife and daughter's death. I guess that is all I could really have asked for.
Further, I loved seeing a glimpse into Cal and Gillian's past. How they met, how far they have come. The episode even answered a question I asked last week: is Cal was infallible? The answer is that while his readings are not wrong, what is done with the information he gathers could be used wrongly.
Finally, the only part of the episode that really felt disconnected or off, was the scene where Cal meets the man in the shadows to get the last of the disk and Doyle confronts the man. It seemed like they were running out of time so they decided to "off stage" have Cal get the information from Prosser on how to contact Finch. Plus, he contacted Finch to setup a meeting, and Finch does not wonder how he got his info.
We went to commercial with Prosser confessing and came back to Cal Meeting the hooded figure again. It really took me a minute to figure out the jump in the story there. However, given how good the overall writing was, I can forgive a tiny hiccup in writing, editing, or timing, whichever is to blame.
What did you think of this week's episode? Did you like seeing Cal Lightman as more afraid than usual? Do you think there will be other skeletons in his closet that will come out to haunt him? Comment away. Share your thoughts.
Jim G. is a TV Fanatic Staff Writer. Follow him on Twitter.