Last night's episode of Futurama, was surprisingly heavy on the pop culture satire, basing the entire episode on poking fun at Apple's crazy iPhone nation and Twitter.  Sure the show invented preserving heads just for pop-culture references, but we can't recall an entire episode, saving for maybe the Star Trek one, that based the plotline on nothing but a satire.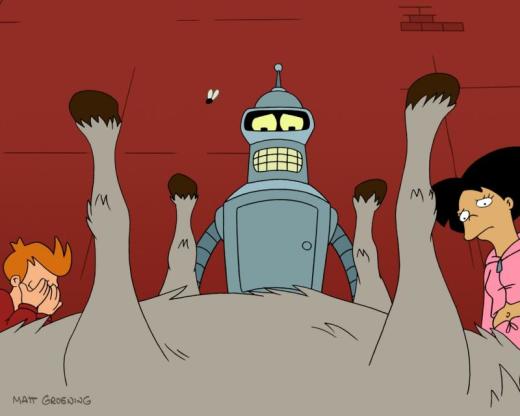 Either way, despite the fact the iPhone has been popular for over three years, "Attack of the Killer App!" did coincide with the launch of the iPhone 4, so the parody's timing worked perfectly.  While the show didn't go anywhere some other show has gone before, it certainly had some great joke at Apple's expense.
"There's only one carrier, the phone gets lousy reception, and the battery can't take a charge."  "Shut up and take my money!"  So true.  Also not sure if this was a direct shot on the name of the retina display, but physically shoving the eyePhone in your eye?  Hilarious.
Despite being based solely on making fun of the iPhone and the Twitter phenomenon, the plot actually worked and was much stronger than the second episode in our opinion.  Plus anything that brings by the show's villain, Mom, and puts her in a Steve Jobs position, works for us.  Maybe a little less slapping of the stooges next time.
The only pop culture reference that felt dated was Leela's Susan Boyle.  The only saving grace was that the boil was hilariously voiced by Craig Ferguson.  Hey Futurama, let's leave most of the time-sensitive stuff to your new comrade on Comedy Central, South Park.  Nobody does it better.
Overall, it was an entertaining episode and we can't wait for the Planet Express crew to get back to what they do best: making deliveries at planets with strange inhabitants, like the start of this episode with Third World and its children laborers.
Our favorite Futurama quotes are after the jump.
Professor: These old doomsday devices are dangerously unstable. I'll rest easier not knowing where they are. | permalink
Leela: Is all the work done by the children?
Alien: No, not the whipping. | permalink
Fry: Since when is the Internet all about robbing people of their privacy?
Bender: August 6, 1991. | permalink
Leela: What do you feed him?
Bender: What comes out one end we feed to the other. Also, Indian food. | permalink
Bender: Is there an app for kissing my shiny metal ass?
Random: Several!
Bender: Oooh! | permalink
Eric Hochberger is the programmer of TV Fanatic, so please forgive his mediocre writing. His programming is far better. Follow him on Twitter and/or email him. Just don't request threaded comments. They're coming.