Without a doubt, "Teacher and Pupils" was one of the best episodes of the season.
It actually redeemed the disappointment from the prior installment, as Lightman was on fire reading people and getting to the truth. No gadgets, no toys, just his skills!
Let's start with the game changing shocker: Not only was Clara Musso back, but she now is invested in the Lightman Group and plans on working with them to get business up. Adding to the awesomeness of this episode was the fact that clearly there is some attraction between Lightman and Clara.
I am going to predict right now that this will mean some great "cat and mouse" between the two of them.  Which one is the cat and which is the mouse will be interesting to see.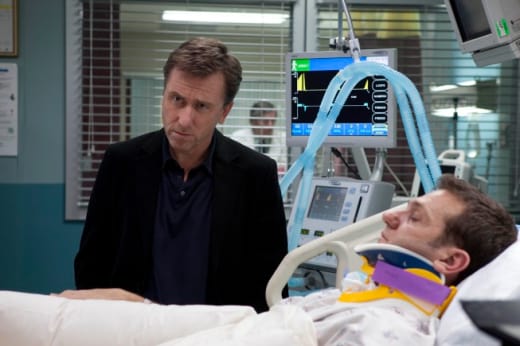 This episode also packed an emotional punch.
Did anyone else come to tears when Lightman helped the officer say goodbye to his wife? Personally, I was blubbering like I had just watched Bambi for the first time.  This was also a memorable scene for seeing how much Lightman actually does care about people. Sure, he may be brash and arrogant at times (okay, all the time), but this showed his softer and more caring side.
I found myself a little curious about the overall case. Lightman was brought in to help determine if either (or both) of the two suspects shot the cop. The boys confessed within the first ten minutes of being there. Shouldn't that have been case closed, at least for Lightman's part?
On Lightman's word, the boys were lying about who told them to shoot the cop and, as a result, the D.C. police started turning over rocks for a different suspect than who the two suspects named. I guess this was a needed plot device to keep the story going.
Overall, the episode was amazing, as Tim Roth and Melissa George are perfect together. The subtlty around how she maneuvered Lightman (and his group) into being a primary investor and backer was worthy of some of Cal's best work.
Besides, I am such a huge fan of George, having her as a recurring character on the show is just the icing on this already entertaining cake. I swear the sultriness of her voice in this show melted the bowl of ice cream I was eating!
What did you think of this week's episode? Do you think Clara and Lightman will end up together? Sound off now as you check out a few Lie to Me quotes from this week:
Clara Musso: I will call you tomorrow to celebrate.
Cal Lightman: Your place or mine?
Clara Musso: Your place IS now mine. | permalink
Agent Reynolds: The first rule of policing Dr. Lightman.
Cal Lightman: Oh, stop for coffee?
Agent Reynolds: Follow every lead. | permalink
Agent Reynolds: Are you sure?
Cal Lightman: Yea I'm sure, sure as the lie on his face. | permalink
Clara Musso: You ditched me, that is not good for business or pleasure.
Cal Lightman: It gave me a little bit of pleasure. | permalink
Jim G. is a TV Fanatic Staff Writer. Follow him on Twitter.