"I'm not looking to be Miley f*cking Cyrus" - Taylor Momsen
Well then. The 16-year-old Gossip Girl star, who's never shied away from speaking her mind, recently told FHM UK that she loathes comparisons to another teen idol.
Both Miley Cyrus, 17, and Momsen are stars who sing and act, but Momsen fronts the dark, edgy band The Pretty Reckless and Cyrus sings lighter country-pop fare.
Comparing the two, Taylor says: "I don't care about fame. I do it because I love music. I like making records and if people like them, then we'll go along for the ride."
"I'm not dissing Miley personally. However, I do think the Disney bubblegum s*** that the world is living right now is pathetic. I thought we passed that repression."
"I don't know Miley, but we're different. To compare us because of age is silly."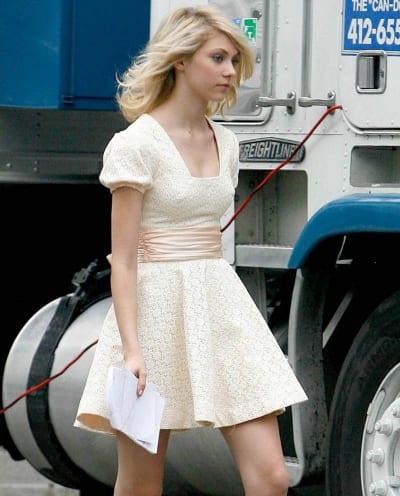 Taylor isn't trying to be Miley ... but is Miley trying to be Taylor?
Although she's been trying to shed her perky 'tween image with provocative outfits and sound bytes, Cyrus rose to fame as the squeaky-clean star of Hannah Montana.
Interestingly, Momsen herself is said to have auditioned for the Hannah role. She was 7 when she starred as Cindy Lou Who in 2000's How the Grince Stole Christmas.
Momsen tells the magazine that fans should be "surprised" by her band's new album. "I mean, it's a rock record. I get that there is this blonde thing from Gossip Girl and they're expecting pop s***, but it's a rock band and its heavy. Our record is a life record."
"It confronts everything head on, death, love, drugs, sex, religion, politics."
Do you like Taylor's music? Or Taylor Momsen in general? Does her candid and often abrasive attitude rub you the wrong way, or is it a refreshing change from all the fake, pre-packaged celebrities out there? Leave a comment below and share your thoughts.
Steve Marsi is the Managing Editor of TV Fanatic. Follow him on Google+ or email him here.