That was a really fun episode of True Blood.
There was a proposal; a key flashback to Eric's past; a brief reunion between Bill and Sookie; hilarious lines from Franklin; and shots of both Alcide and Jason shirtless. What else can a viewer ask for?!?
Below, we review the major developments from "Trouble" and ask readers to chime in with their thoughts...
Ruined reunion: What did Bill think was gonna happen when he broke free from the King's house? Of course he'd be followed and get both himself and Sookie in trouble. Is it just me, or is this couple more interesting when NOT sharing the screen together? It's been exciting to watch Sookie in her quest to find Bill, and equally interesting to wonder just what Bill is up to in the King's clutches.
I rolled my eyes a bit when Bill said it was "too late" for him, but Sookie should leave. I was happy when Coot and Russell entered and absolutely loved the ending, as Sookie used her powers and Russell cackled away. Two questions from this storyline:
What will happen next?
Do we believe Bill's argument that he doesn't know anything about the Stackhouse family tree? Seems rather unlikely, no?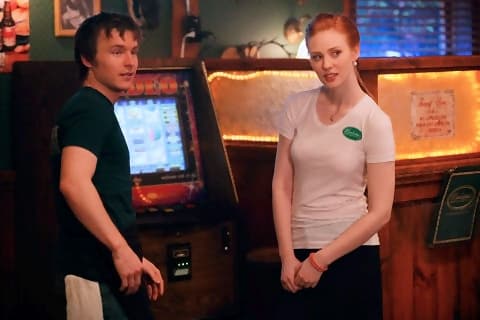 Eric's viking quest: We learned a great deal about Eric in a very short period of time. First, there was this exchange with Lorena: You... you?!? Can't wait to see more interactions between this pair. Then, of course, we discovered just how/when Eric's problems with the werewolves started.
No wonder Eric was so anxious to grill that one in the previous flashback we saw of him and Godric. Heck, no wonder he has sex so violently with women. The act doesn't have pleasant memories and connotations associated to it for him.
Funny, funny Franklin: If the detective field doesn't work out for Mr. Mott, he can totally become a stand-up comic. What's your hesitation about marrying this guy, Tara? Think of how hilarious it will be every time Lafayette texts.
Jason and Crystal
: This one remains a mystery. The writers are in danger of making Jason into too much of a caricature, as he's always been dim-witted, but at least he was involved in prominent past storylines and we could understand his motivation for thinking, for example, that the Fellowship of the Sun Church was a good idea.
But this police thing really makes Jason look like a fool above all else, no matter how many times he pulls people over without a shirt on.
Save Lafayette, Jesus! Looks like an actual romance brewing here. Do we trust Jesus? Do we wonder if his aggression is a sign that he has dangerous motives, or just that Lafayette is that hard to resist?
Sam's family drama: Is there any doubt that Tommy and Joe Lee are working together here? The former hasn't suddenly chosen to bond with his brother. It seems clear that he and his dad are just pretending to feud in order to help Tommy get close to Sam and steal whatever money or secrets he can from him. This remains the show's least interesting storyline to me.
What did you think of the episode? As the action picks up, each new character is really coming into his/her own. Who is your favorite? Review True Blood quotes from "Trouble" now and then sound off on it!
Matt Richenthal is the Editor in Chief of TV Fanatic. Follow him on Twitter and on Google+.