Move over, Patrick Dempsey. Ben Bass is the new ABC heartthrob.
The Rookie Blue star couldn't be more excited about his new series, which has already been picked up for a second season. In this exclusive interview with TV Fanatic, the man that makes ladies swoon due to his portrayal of Sam Swarek talks about his character, co-stars and more...
What is your favorite part about being on Rookie Blue?
As an actor, I love exploring relationships and doing that in the world of city cops is a wonderful combination. You get all sorts of interesting action and you also get to delve into complicated interpersonal dynamics. You've got the crime fighting element, the romance element, love triangles, politics in the work place... It's just a fascinating mixture of entertaining subject matter.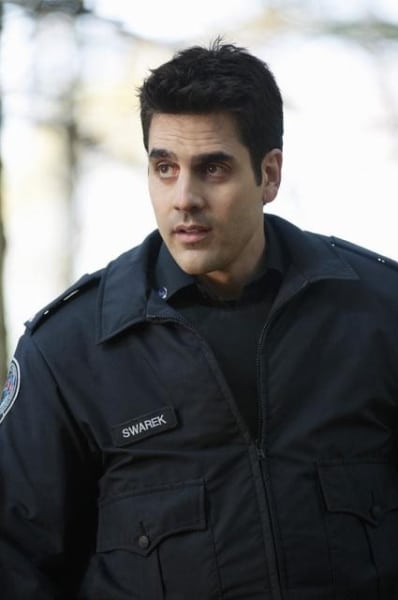 Why were you attracted to that role?
There is a great deal of scope to the character of Sam. He's got many years on the force, which means he's dealt with a great variety of situations and knows his job very, very well. When you engage in conversation with a real cop with a lot of experience you know they've got a thousand amazing stories about what they've seen and done. I like the fact that Sam has that kind of background.
I enjoy looking for ways to create that feeling with Swarek. In other words, it's fascinating to follow this guy around and see what he does based on his experience and slightly maverick style. It's always interesting to play a maverick because the writers are constantly trying to think up new and off beat things for the character to do.
Do you have any similarities with your character?
I identify with his moral core. And his passion for what he does. It sounds funny, but it wasn't until I watched the show that I realized how much Sam loves his job! When I was playing Sam, I was just in it. I suppose the enjoyment is inherent in the character as written, but it still was fun to discover how much his enjoyment comes across. I think when I'm working well I enjoy acting, as Sam enjoys what he does. I identify with his dedication and fidelity, not just as an officer but also his devotion to Andy, professionally and romantically. I think a one-woman kind of guy is more interesting in some ways than the opposite.
When do you or begin filming the second season?
We're getting started September 1. The scripts are still being developed and written, but we're in good shape and everyone can't wait. It's a terrific team they've assembled for the second season and, no doubt, audiences will have lots to look forward to.
Talk about the cast.
It's an amazing bunch of people. We don't have any big, difficult egos in the bunch, which makes it so much easier for all of us to do our job. It's an immensely talented group of actors and I'd be very glad to have the opportunity to work with any of them again. I guess the one frustrating thing about the show is that, frankly, we'd all love to have good, meaty scenes with each other, all the different characters mixing it up, but then the show would be four hours long. Hopefully, over the course of the episodes we'll all get some good stuff with all the different characters.