It's Alumni Day at West Lake High School, which means it is time for Ray Drecker to relive the glory days during this week's episode, "Third Base."
The problem is that Ray doesn't want to relive the glory days.  The guy doesn't want to be reminded of the times when he had his whole life ahead of him.  He thought he was going to be someone important.  Maybe he was going to be a professional ball player.  Maybe he was going to be married to his high school sweet heart for the rest of his life. 
The reality is that he's a high school teacher and part time gigolo; not the life he imagined as a teenager.
That didn't stop him from fighting through an injury and knocking a tipped pitch out of the park during the Alumni Game though.  It was nice to see him succeed, even if he had a little help from the opposing pitcher.  As he rounded the bases he looked happy, even though his shoulder was absolutely killing him.  But hey, if putting on his old uniform and hitting a homer will get Jessica to smile and do a cheer for the family, Ray will play through the pain any day of the week.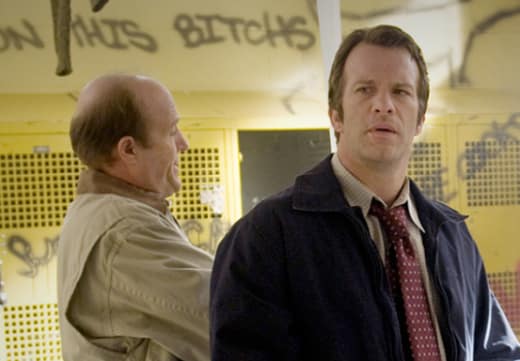 Speaking of Jessica: She has some sort of rash that she also had right before she left Ray three years ago.  Ronnie claims it is back because Ray has come back in her life, but the better answer is that she is unhappy with her marriage to Ronnie. We all would be happy if she left Dr. Skin and accepted that she should be back with Ray.
This show needs a new obstacle and Jessica would be perfect for it.  If she leaves Ron and wants to get back with Ray, that would cause a major conflict in his prostitution.  How does he continue to do this if he has such feelings for his loving ex-wife?  We need to rock the boat somehow.
Unlike Ray, who continued his good work as a prostitute with the pregnant woman, Tanya continues to spin in circles. She screws up the Francis and Mike situation and is now out of clients.  Come on!  I either need some continued growth, like we've gotten out of Ray recently, or I need her to fall flat on her face. 
If Ray just fired her as his pimp, what would she do then?  She'd have to make such marked improvements to win him back.  That is something I'd be intrigued by.  Her continuing to do a little better then reverting back to her awful pimping ways, is getting tiresome.
Not only was Tanya running in circles this week, she was also running around the baseball field.  How incredibly uncomfortable was that scene to watch?  I felt so bad for Mike.  The dude had no idea what was going on.  And then there was Tanya running around the diamond like a chicken with her head cut off.  Yeah go climb that fence in right-center field.  That's a good idea. 
There are only two episodes left in Hung's second season.  What changes will we get before the season ends?  Will Jessica and Ronnie ever split up?  Will Ray fire Tanya when he finds out she didn't give the money back to Francis?  We shall see.
Review a series of Hung quotes from the episode below:
Ray: I watched the ball fly and I watched it fade, and everything stopped. And as home grew closer and my team waited there for me to cross the plate I realized...that my shoulder was f*cking killing me. | permalink
Jessica: Don't you wanna know why I'm unhappy?
Ray: You're unhappy? | permalink
Francis: I'm a person, not an ATM machine. | permalink
Damon: I peed on home plate, I'm not a vandal. | permalink
Ronnie: You never notice guys like me and now guys like me...we rule the f**kin' world. | permalink
Dan Forcella is a TV Fanatic Staff Writer. Follow him on Twitter.