Following a revealing episode that shed a lot of light on Emily, Spencer's mother and possibly Lucas, the TV Fanatic staff has gathered for another edition of the Pretty Little Liars Round Table.
As readers gather in the show forum and/or leave Comments below to discuss, a trio of our writers are here to analyze the following topics...
Choose a man for Aria: Ezra or Noel?
M.L. House: Noel. I can only judge by what we've seen so far - and we've seen a funny, nice guy who seems to genuinely want to get to know Aria better. He can also play the guitar, which allows her to show off her lovely voice.
Mrs. Northman: As creepy as it is for Ezra to be with a 16-year old, I kind of like them together. You can't help what the heart wants sometimes and I feel like these two would work out if the timing was better.
The Barnacle: Choose a MAN for her? That's easy: Ezra. Choose an age appropriate suitor? Noel.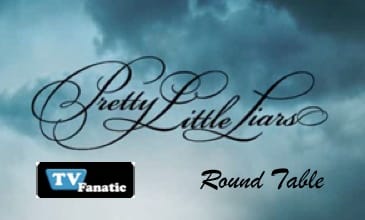 Should Byron and Ashley date? 
M.L. House: No. None of their couple nicknames would work. Bashley? Ayron? Lame all around.
Mrs. Northman: Um..how bout a big fat N-O. Hello! Don't they realize what that would do to their daughters?!  There are plenty of fish in the sea, so why keep things so incestuous?
The Barnacle: Probably not, but look at it this way: Ashleyt is hotter than Ella and if they got married, it would make Aria and Hanna sister-in-laws. They'd probably like that.
Who destroyed the memorial, Lucas or Emily? 
M.L. House: I'd like to think it's neither just because it would be such lazy writing to have the big give away be their overly muddy sneakers. But if I must choose between these options, I'll go with Lucas.
Mrs. Northman: Lucas. I definitely don't think Emily would put in all that hard work just to destroy something she created for the one she loved. Also, I don't think we're going to find out before the season ends.
The Barnacle: Emily. But this may just be wishful thinking because Shay Mitchell is such a bad actress and I'd like her character off the show. No offense. She may be very nice. She's just painful to watch.
Next week is the summer finale. Make at least one bold prediction about what will happen.
M.L. House: Toby will return and everyone will realize they were wrong about him all along. He'll save the life of one of the girls.
Mrs. Northman: Someone will die! Muahahahahah! Doubtful, but would be interesting. Whoever A is must have been really close to Allison. How else would that person know all the details of their secrets she had with each of the girls? Super creepy! Can't wait to see what happens!
The Barnacle: Ezra and Aria will have sex.
Matt Richenthal is the Editor in Chief of TV Fanatic. Follow him on Twitter and on Google+.