Royal Pains Review: "Frenemies"
at .
Last night's episode of Royal Pains didn't have the needed oomph for a follow up to last week's extraordinary episode "The Hankover".
Although, at times "Frenemies" did have me laughing out loud, especially like when Jill tried to hide from Dr. Blair. Really? It was painfully obvious that she saw Jill before she tried to duck and hide. And why wouldn't Hank just drive off? Jill did try to do a nice save, but alas, it didn't really hold suit!
Again, I have just bad feelings watching the romance blossom between Hank and Emily. Anyone else out there agreeing with me? I just think she's a wretched woman! Yes, we did get to see a more personal side of her which did make her look a tad bit better in my eyes, but she still will never compare to the woman that Jill is for Hank!
You could see the tension between these two old flames at the end of the show. Am I the only one still pulling for Jank? Now that they are working exclusively together in her clinic - will sparks start to fly once again? I really do hope so!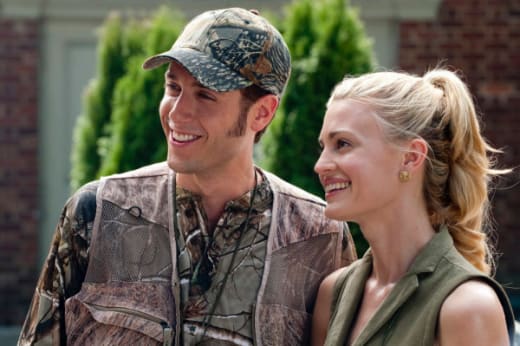 One of the most comedic parts of the episode had to be when Evan dressed up like Elmer Fudd to go hunting with his faux girlfriend's parents. Could he have looked any more ridiculous? This is another couple that I am not too happy about. Are the writers just toying with our emotions by bringing in other girls for our main guys?
Divya and Evan have to realize that they are M.F.E.O. already! With only a couple more episodes left of this season, we better start seeing things move more quickly!
All in all last night's episode seemed more like a filler than one with substance. The background storylines were okay and pretty predictable. Hopefully, the season will go off with a bang - and bring back two of my personal favorite characters - Eddie R and Borris!
What did you think of last night's episode? Follow the jump to read a few Royal Pains quotes and don't forget to leave your comments!
Hank: (Referring to Evan) Hunting? You should really stick to gathering. | permalink
Divya: What is that? POE?
Hank: Property of Evan -
Jill: No, I was thinking someone else. | permalink
Evan: You know I always say, the early bird catches the worm. And after we catch the worm, we can shoot it. | permalink
Evan: I try to kill something every day - even if it's just killing a bug. | permalink
Emily: I'm not afraid of intimacy - I just don't like it. | permalink
Hank: You're so incredibly predictable. | permalink
Hank: Weren't you the one that said all publicity is good publicity? | permalink