The Gates Review: "Jurisdiction"
at . Comments
Last night The Gates delved further deeper into the secret lives of the people living inside. 
Probably the most griping scene from "Jurisdiction" had to be when Buckley showed the tape to Nick and Dylan. It is obvious that Nick can not leave the Gates now. He is now trapped in his own set of lies.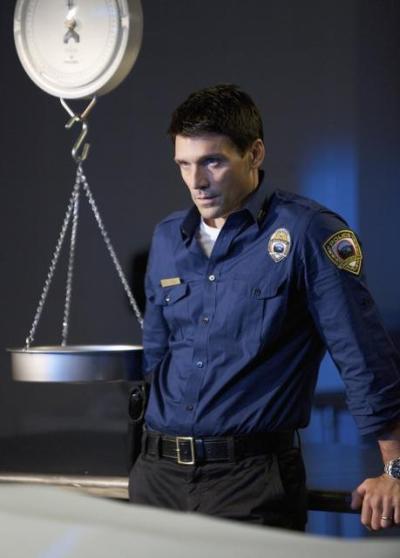 It is great that the writers were able to bring to surface the possibility of Nick wanting to get the H E Double Hockey Sticks out of the Gates. Seriously, why would anyone want to endanger their family and stick around? Obviously, Nick and his family play an integral part, so they couldn't leave. But, I wasn't sure how on earth they would be able to make him stay.
I am completely in love with Buckley's character. I feel he brings a level of power that goes unmatched in the gates. It looks like he has dirt on just about everyone - except for Devon.
Speaking of Devon, what in the world are her arterial motives for helping out with the fund raising? What will she do with all those creepy masks? We still have no idea what she plans on doing with the vile of Claire's vampire blood. I have a feeling that Devon could quite possibly be the scariest person inside the Gates!
Andie is still trying not to believe that her magical powers are as dangerous as Peg tells her that they are. Why else would she make-out with poor Charlie again? At least, by the end of the episode she realized how important it is to take the pills.
All in all I thoroughly enjoyed this episode. What did you think? Follow the jump to read a few of our favorite The Gates quotes after the jump!
Bartley: You see gentleman, everyone has secrets that they want protecting. | permalink
Andie: No it's not you - it's me. I'm so sorry, I have to go. | permalink
Christian: It's because true love is worth fighting for. | permalink
Christian: Surprised? | permalink
Christian: Here's to old friends, Dylan. | permalink