With two-thirds of this season already having flown by, this week's episode offered us a glimpse into what Pete and Myka go through when they just try to have a normal weekend.
I will admit I clearly under estimated Pete last week when I asked the question about Kelly whacking him on the head before desert. For that transgression, I declare that Pete is officially The Man now, as he and Kelly went from first date of "only food" last week to "we are spending the weekend in bed together" this week.
Of course, he also scored extra points for having kissed Kelly and Kurt in the same night in two different bodies; not many guys could pull that off.  Seriously, though, I really like Kelly and I think they make a very cute couple. Hopefully she will get to be around for a while and we get to see more of Pete's romantic side.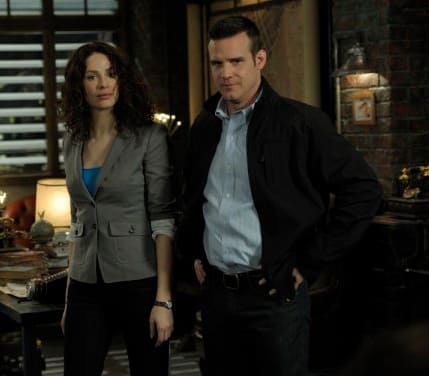 On "Merge with Caution," Pete ended up in Myka's body while she was "buzzed" - when he is a recovering alcoholic - and it reminded me of a game I use to play as a kid called "What if... " As someone who grew up in a recovering family, there were times when I was little and trying to understand certain boundaries.
My siblings and I would ask questions such as "What if someone held a gun to you head?" or "What if you were on a desert island and there was nothing else to drink?" I can honestly say that the question "What if you switched bodies with someone who was already drinking" was not one I would have ever thought up.
Kudos to the writers for their creative yet continued respect towards Pete's alcoholism. Many shows these days have done an excellent job properly portraying the disease and I am very happy that the writers on
Warehouse 13
are among those. Keep up the great work, guys!
As a small side note, did anyone else noticed that Pete (while in Myka's body) didn't touch the drink the bartender handed him other than to sniff it. It was a subtle touch, but for those who are familiar with it, very powerful.
How awesome has Claudia become? She was out on her second assignment and had no hesitations and rocked figuring out the artifact and how to stop it. I like Artie's game of "I see X ways to escape." I really hope we get to see more of the teacher challenging the student like this. And I actually clapped when he left and said "Claudia, knock knock," which was a great reference back to episode four in season one when Claudia was introduced when she hacked into the warehouse after Artie.
TVFanatic Fan Warehouse 13 Round Table:
Next week, I am going to try something bold and fun and have a TV Fanatic Fan Round Table for Warehouse 13. For those of you not familiar with our Round Table concept, this feature consists of a few questions that I will send via private message here on the site to get answers and thoughts from fans of the show and readers of these reviews. We then post these for everyone to read, enjoy, and comment on. 

To participate:
- Register on the site. It is free and we do not give out your information to anyone.
- Once you are registered and logged in send me a Private Message (user name: ViddWizard) stating you would like to participate by Saturday August 28.
I will be picking three TVFanatic fans at random to participate. Don't worry if you are not chosen (or don't reply by Saturday), I am hoping to do another round table the following week(s) and will pick again from the remaining names (and any late requestors) to give everyone a chance. I will be choosing the winners on Sunday and sending a trial message to confirm those who were chosen. So watch your Inbox on Sunday if you volunteer.
Jim G. is a TV Fanatic Staff Writer. Follow him on Twitter.