Chuck is my favorite series on TV because it does the best job blending the three aspects of television that are the most integral in keeping me interested: comedy, action, and heart.  The season four premiere, "Chuck vs. The Anniversary," did not stray from that formula.
Thanks to the combination of great writing and the stylings of one Josh Gomez, the laughs were rampant this week.  Everything coming out of Morgan's mouth was memorable, but just the fact that he has become Chuck's full on spy assistant is humorous enough.  I mean, worrying about their spy budget?!?  That's not stuff you would normally think about, but when you are going rogue, it does tend to be an issue.
There was plenty of action in this first hour to satisfy me.  We had Casey and Sarah jumping off a building, Chuck and Morgan using the all too effective Tangiers strategy to escape the repo man, and of course the lights-out shoot out between our team and the great Dolph Lundgren. 
Honestly, it was weird seeing Dolph Lundgren not playing a scientist that can smell crime and runs around on all fours.  Oh, that was only a fake screenplay from It's Always Sunny In Philadelphia?  My bad.
Where Chuck is at its best is when it integrates the heartfelt storylines well.  I like that Chuck and Sarah are in a good place, unlike last season with Shaw ruining everything.  This allows for the Bartowski family to take more of a central role.  With Poppa B now out of the picture (
tear
), Chuck is out to repair his relationship with Momma B, if he can find her.  The fact that he's keeping it all a secret from Ellie could prove to make for an emotionally draining scene once she finds out.
So, what didn't work this week?  First, the whole sexting thing was a bit off, and not just because they're way behind the game on the topic.  It was just all off putting watching Chuck and Sarah squirm their way through those scenes.  Of course, it was all made up for when Morgan got confused and started sexting back and forth with Sarah.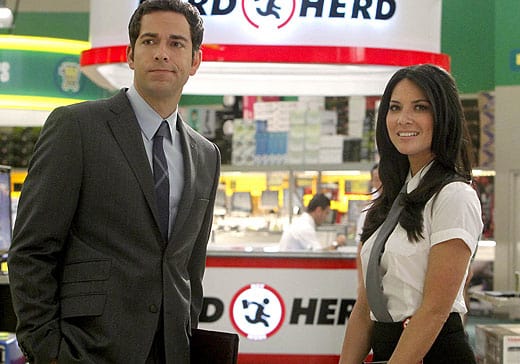 I love the formula Chuck has created over the years, but every now and again I would like to see it break the mold.  In the case of this season, I would have enjoyed seeing Chuck and Morgan as rogue spies for at least a few more eps.  It felt a bit rushed to let Sarah and Casey in on Chuck's situation in the first episode of the season.  Although, like I said before, I'm all for him keeping it a secret from Ellie.  That will keep some suspense going for a while.
No Awesome, Jeff or Lester?  I know that the series, like Chuck and Morgan's spying world tour, has some budgetary issues, but none of these three can make the premiere?  When you do that, you're basically counting on Morgan for all of the comedy.  Granted, he came through this week, but I need me some Jeffster at least every other week.
Other Thoughts:
I love how the show plays on itself at times.  This week it was Chuck stating that "This is not the opening of a TV show.  This is real life."  Also Dolph Lundgren using his famous "I must break you" line from Rocky IV.
Chuck applied for a job at Vandelay Industries!  Think that was the latex company or an architectecture firm?
I don't know how I feel about the new Buy More being an all-out CIA base.  Where does that leave Jeff, Lester and Big Mike?  Out in the cold?  I don't like that.
Oh, an Awesome baby on the way! Get excited!
Dan Forcella is a TV Fanatic Staff Writer. Follow him on Twitter.