We don't condone the use of marijuana, but we must say: Ryan Eggold was simply hilarious as a high Mr. Matthews at times during season two of 90210.
The actor agrees, telling TV Fanatic in an exclusive interview: "It was so much fun to play," but then adding that he won't get a chance to anymore because the character is gonna be a father and must "grow up." Below, we've posted more excerpts from our conversation with Eggold.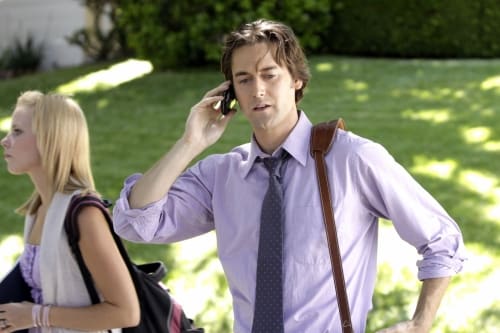 Where is Ryan at on the season premiere?
It's the summer, so the entire summer has gone by. He's having a baby with Jen, who tries to push him out of her life, but no way is he gonna let that happen. He's cleaned up, focused and struggling with Jen's insanity.
What is the dynamic like between Ryan and Jen?
These characters are just so different. They pretty much don't like each other and can't agree on a single thing, including what to name the kid. A lot of humor comes out of that.
What is it like playing someone straddling the world between the students and the adults?
It's great. I'm 26. So I get to play where I'm actually at in life, that transition of kid to adult. You have to rely on yourself at this point. There's this contrast between Debbie, who is single and dealing with those changes... Ryan and Jen having this baby and no clue how to deal with it.
Are you similar to your character?
Yeah, definitely. I'd like to think I'm as kind as he is. We're both extremely good looking. Just kidding. He's much better looking than I am.
Did you meet the Kardashians?
No, I wasn't working that day. But I'm excited to see that scene. So is my mom. She's a big fan.
Matt Richenthal is the Editor in Chief of TV Fanatic. Follow him on Twitter and on Google+.