NCIS: Los Angeles Review: "Borderline"
Steve Marsi at .
NCIS' Office of Special Projects sprung into action after a humvee of four U.S Marines was ambushed along the U.S-Mexico border. "Borderline" only got more explosive from there.
As usual, it was a more explosive, high-energy version of NCIS, with some of the same key components. Frequent twists, firefights and funny banter between agents are a given.
One Marine escaped. One is dead. Two others are captive. Initially believing that drug cartels, Sam went undercover to speak with Memo Torres, a well-connected drug contact.
Kensi Blye, a.k.a. Jason Bourne, kicks a$$ and takes names.
Memo wasn't in a cooperative mood, but he did lead them in the right direction, indirectly, when Callen spotted limo leaving Memo's shop carrying businessman Donald Wexler.
The owner of a major textile company, Wexler admits to NCIS that he pays Memo for protection against the drug cartels, saying it's just the price you pay for doing business.
It turns out he paid a price not to Torres, but to mercenaries who kidnapped the Marines. Wexler's diabolical goal was to ambush the Marines and frame the drug cartels for it.
That way, the U.S military would finally get involved and take out the cartel, clearing the way for easier business. Certainly a lot more complex than your usual drug murder.
While G and Sam tracked down leads in L.A., Kensi and Deeks tried to hunt down the missing Marines in the desert, following the SUV tracks that lead away from the scene.
Finally coming upon a desert compound, Kensi spots the two Marines being hustled into a waiting plane and knows if they get on that plane, they will never see them again.
She calls in their coordinates then Kensi and Deeks move in. Deeks creates a diversion and Kensi manages to pull the Marines to cover. A typically massive firefight ensues.
Just as they are about to be ambushed via grenade launcher - how do these agents not have chronic PTSD - Callen, Sam and the Marines arrive via helicopter to save them.
After about 10 minutes, we resumed breathing normally. This is an intense program. It lacks the slow buildup of the original, which means more action - and frayed nerves.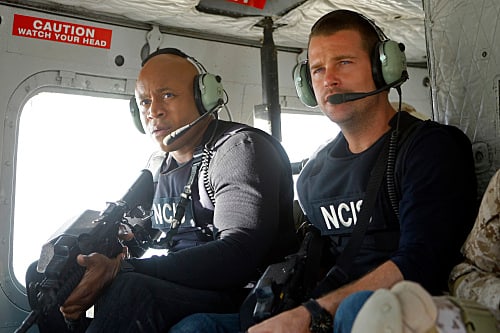 Sam and G arrived just in time to bail out Kensi and Deeks.
On the hunt for the kidnappers, Kensi and Deeks spent a lot of time bonding in the desert, trading one-liners and opening up about their respective relationships with their fathers.
At times, we can't decide if Deeks is funny or not, or if their banter feels forced. But it's clear NCIS: LA is trying to replicate the Sam-Callen dynamic with a second pair of agents.
Overall, we think it's going potential, if for no other reason than it better utilizes Daniela Ruah's character, who we like more every week. Is there anything Kensi/Bourne can't do?
The casualty of Deeks' integration into the fold may be Nate, who heads back to where he went on the season premiere, presumably Afghanistan or Iraq. Will we see him again?
It's quite possible Peter Cambor has been reduced to recurring status, which is too bad, as we're fans of Nate. At the same time, we understand these tweaks are often made.
Not only is it realistic that agents come and go, but it keeps you on your toes as a viewer. Particularly for a procedural drama, you need some new blood and to mix things up.
What did you think of last night's NCIS: Los Angeles?
Steve Marsi is the Managing Editor of TV Fanatic. Follow him on Google+ or email him here.