Castle viewers were treated to one of the show's most intriguing cases yet on "3XK."
The Triple Killer provided fans with the possibility of a recurring murderer, played guest star Michael Mosley (from HBO's critically acclaimed Generation Kill).
I am hoping the writers decide to bring this story back on another episode later this year. Although Castle does not rely on serialized elements often, the best storyline to date carried on beyond one week. Remember last season's two-parter featuring Dana Delaney? It was the most enjoyable and tension-filled case I've seen on the show.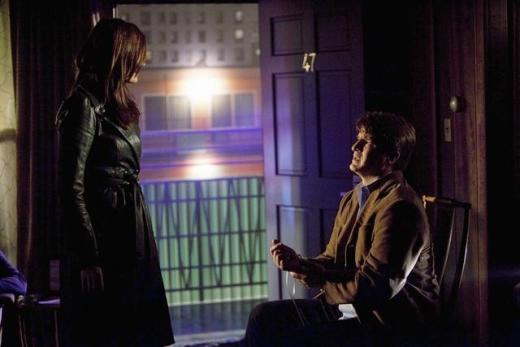 [Photo: ABC]
"3XK" provided the same feeling. The twists and turns were so unexpected. My eyes were glued to the screen for the full hour. I definitely think this could be a start to an interesting story arc for our favorite detectives.
Lee Tergesen guest starred, as well, playing his part perfectly. His stares alone were enough to creep me out. Having also appeared in
Generation Kill,
Tergesen is best known for his work on
Oz
. This man should absolutely stick to roles involving crimes because he is mesmerizing in the role of a criminal.
The writers threw one small moment of the Beckett/Castle relationship at us, a quick hand-holding scene at the end of the episode. Just a baby step, but I can't wait until there is some real action between these two.
Witty banter, unexpected turns, and a Gina-less episode made for a pretty great hour of Castle, don't you agree, TV Fanatics? What did everyone else think?