Would you break your love out of prison? That's the important question.
The latest installment of Castle, "Anatomy of a Murder," was a solid hour of twists and turns leading us from a murder mystery right down to a love story.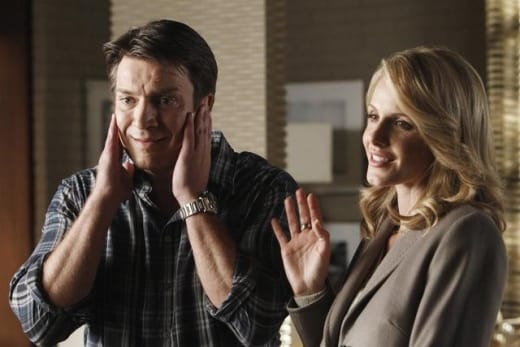 [Photo: ABC]
On the personal front, Castle's ex wife/current girlfriend, Gina, finally popped back up. Her character is totally useless, so much so that her own daughter calls her by her first name. Moreover, she totally stole Castle's thunder with the Taylor Swift tickets. So not cool.
Seeing her and Castle back in the same scene really displayed the lack of chemistry in this relationship. As I have said in the past reviews, Gina needs to go.
The case of the week, meanwhile, explored the murder of a doctor found in someone else's casket during a funeral. This may have been the best place to find a body throughout Castle's run so far. Not only did the pallbearers drop the casket, but two bodies fell out. Could you imagine?!?
The murder mystery of Dr. Monroe really led us to the idea of love. The elaborate scheme used by Greg McClintock to break his girlfriend out of prison... that is some serious commitment. Martha told Castle that if you are willing to break someone out of prison, you have true love. This conversation led to my favorite moment of the whole hour: Beckett told Castle not to worry, that she would always get him out. Here is hoping for some development on the Castle/Beckett front - and quick.

Overall, a pretty good hour of our favorite mystery writer. What do you think?