It's a treasure map!
Tonight's episode, "Under The Gun," proved that Castle is one of the best cop shows on television.
Only this series could get away with having an installment focused on discovering the location of stolen jewels from a treasure map. Although this seems like a ridiculous premise for an adult show, Castle nailed it. The episode displayed the quick wit we have grown to love, as well as the love/hate banter between Castle and Beckett.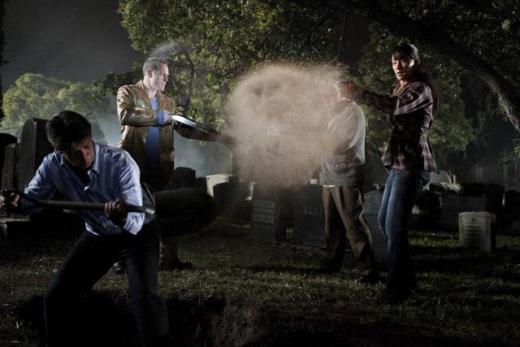 [Photo: ABC]
"Under The Gun" introduced us to a husky voiced man from Beckett's past, Mike Royce, who would make for a great recurring character on the show. There was definitely some romantic tension between him and Beckett that would be interesting to explore. Also, any chance to show the jealous side of Castle is okay with me.
Speaking of love interests, there was no mention of Castle's ex-wife/current girlfriend in tonight's episode. She hasn't appeared in this season at all, not even on a phone call. Here is hoping that the writers have recognized that this storyline isn't working and are on their way to making it completely non-existent.
Once again, Nathan Fillion proved why he is such a beloved actor. His facial expressions alone are worth watching, but his one-liners and humor are what make the show enjoyable. Below you will find some of his best lines from the episode:
Castle: It is making me doubt my own genius. | permalink
Castle: You guys, I think I know what this is. Its' a treasure map!! | permalink
Castle: My Spidey-Sense is tingling. | permalink
Beckett: I don't think you can handle the sight of me straddling it in tight black leather. | permalink