Cougar Town Review: Harry Potter Cool?!?
at . Comments
Because Trav has officially flown the coop, Jules had a lot of emotional adjustments to make on last night's episode of Cougar Town.
Throughout the whole episode, Jules handled this transition the only way Jules knows how: by smothering someone else with love and attention. Of course, because her beau is Grayson, he was her main target.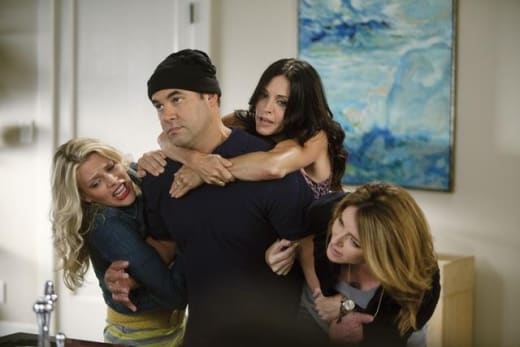 [Photo: ABC]
Hilariously, Jules tried to get Grayson to wear glasses and tight jeans. I don't know why she wants him to be a hipster, but I did find it to be quite hilarious. Especially when the ladies showed Grayson that with beauty comes pain (wearing the tightest of tight jeans).
"Makin' Some Noise" wouldn't be an episode of Cougar Town if it didn't involve some aspect of drinking wine. Of course, their creepy neighbor Tom makes a cameo with his family wine. The wine ends up being stuff that he makes in his garage.
This brings up an interesting question, would YOU drink Tom's stinky feet wine?!? Why not give it a try, right?! I'm going with Grayson on this one...alcohol kills germs!
Trav is trying to be the aloof, but Harry Potter cool guy in school, and it's really not working out for him until Bobby shows up with his mid-bearing tee-shirt. Really? That would make you cool in front of your roommate? And really? Harry Potter cool? Don't get me wrong, I am a Potter head just like many of you out there, but your first impression you want to make lasting is that?
In any case, it seemed that Bobby just wanted to relive a time in his life he never really had, and of course Andy would show up, too.
Speaking of Andy, what in Sam Hill was on that guy's head?! I didn't see how that correlated to anything in this episode other than making him look like a cat burglar when the cul-de-sac gang went on neighborhood watch. 
Another one of my favorite aspects of this show is the relationship between Laurie and Ellie. One minute I really feel like they could be bonding, then the next, I realize that I was wrong and they really do just love torturing each other. Deep down I do think that these two found some sort of common ground, but neither of them would ever admit it.
I don't think the episode could have ended in any better of a way than Grayson standing up and being the man Jules needs in her life. That, and the fact that he made her a jam room and the whole gang rocked it out to Slow Ride.
Overall, I really have come to love this show. Always hated the title, but hey! At least the writers can still laugh about it with putting Badly Titled in parentheses in front of Cougar Town. I think all of America couldn't agree with you guys more. Which in turn, only makes me love em more.
What did you think of last night's episode? Let us know below!
Until next week, here are a few of my favorite Cougar Town quotes from last night:
Grayson: I woke up in the morning and my wife was gone. I know a little something about getting left behind. | permalink
Jules: To sweaty foot wine! | permalink
Ellie: I was so stunned! Do I give off a vibe that I'm friendly? | permalink
Ellie: If we're gonna be sneaking around the neighborhood at night should my husband be dressed like a cat burglar ? | permalink
Jules: This is our cul-de-sac damn it. Tonight we take back the sack! First order of business we need a new slogan. | permalink
Jules: I love my security system. It's like I live in an antique store. | permalink
Trav: Here, I'm gonna be a quiet bad ass. Like Harry Potter. | permalink