We can say this about the first two episodes of season five: Dexter is certainly honoring the memory of Rita.
Those that feared the show might gloss over this major character's death, setting Dexter off on a killing rampage like usual, should feel comforted by the fact that it's gone in the opposite direction. After a premiere that focused entirely on Dexter's method of mourning, "Hello Bandit" didn't rev up the action or the suspense very much.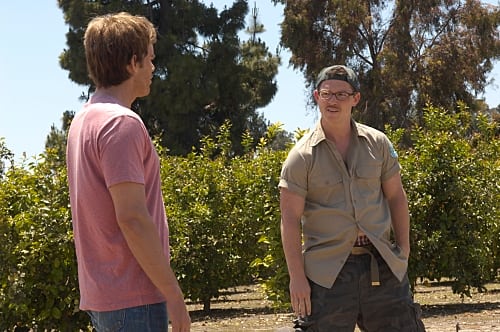 The installment did introduce us to Boyd Fowler, played in a convincingly creepy way by Shawn Hatosy. It's safe to assume this animal gatherer - and woman murderer - will reinvigorate Dexter's Dark Passenger in the very near future.
But will this be enough to get Dexter back to normal... or at least normal by his standards?
The show appears set on giving viewers a Dexter Morgan with which we aren't familiar, someone unsure about who he is or what he should do next. In the past, Dexter was always a man with a plan. Marrying Rita eventually fit into that plan, as it gave him the cover of a responsible father and husband.
The goal has always been to essentially disappear, to go unnoticed when he slipped off into the night on a kill. Now, though? All eyes are on this blood expert and everyone is waiting to see how he'll react to his new situation... including Dexter.
He tried to be a good father to Astor and Cody, but they are no longer his responsibility. He broke Harry's code and killed a man in cold blood last week, only to react with a ferocious, painful scream, not the sort of catharsis that typically accompanies a murder.
It's interesting to see Dexter struggle with this situation, but it's also a bit boring. At its core, this show is a cat-and-mouse game between the title character and whoever is in his path. I'm confident it will become that again, mostly thanks to Quinn putting the Kyle Butler pieces together (although it's a bit of a stretch that the Mitchells provided such disparate sketches, and that only Quinn would think to combine them), but I'm anxious for it to get there.
Let's see more of Dexter in action, trying to stay a step ahead of whatever threatens to expose him. A couple other notes:
Keep trying, writers, but you aren't gonna get me to care about Angel and LaGuerta. Not one bit.
I'm curious where these cult murders are going. Let's hope they tie into a bigger picture later on and aren't just filler to give Michael C. Hall a break from being in every scene.
What did you think of the episode?
Matt Richenthal is the Editor in Chief of TV Fanatic. Follow him on Twitter and on Google+.