AnnaLynne McCord is at the center of 90210.
Her character of Naomi is dealing with as serious and as personal of an issue as can affect a female, as viewers have watched her react in various ways (stripping down, breaking down, etc.) to the rape at the hands of Mr. Cannon to conclude season two.
in the exclusive interview below, McCord talks to TV Fanatic about what it's been like to take on such a role...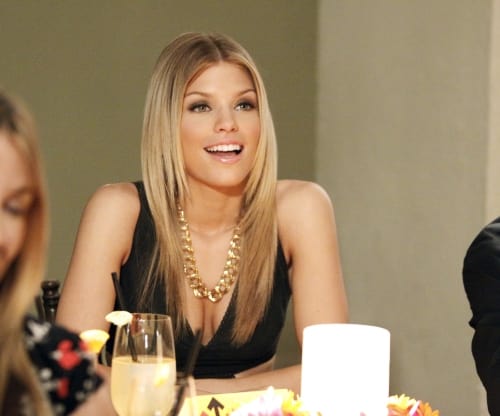 What was your reaction when you found out your character would be going through this?
When they first presented the idea, they weren't really fully on board. They wanted to hear what I had to say and they didn't know all about the work that I do and the charities I support. It kind of gave me the opportunity to express to them that I work with victims of sex trafficking and I'd absolutely love to do this because it gives me an opportunity to talk about this issue in every aspect; how the woman feels it's her fault and she can't speak out, or she caused it to happen. There was so many aspects that I was more than excited to portray.
The material itself is not to be taken lightly; it's not fun stuff to have to do every single day. There are moments that I definitely have had to walk off set, but I think it's amazing. It's incredible that as materialistic as our show can be - we have a pretty shallow show most of the time - we chose to touch on topics that are real-life issues.
I feel like our fans have a chance to relate to situations that our characters get put into. It's obviously unfortunate some of our fans will be able to relate to Naomi's situation right now. But if it at all helps them to come forward or to talk to someone about it, I'm blessed to have that voice and the opportunity to be a part of that. Even if it's one person that I made a difference in, then my entire work on this show is validated.
Did you do any research to get into the mindset to portray a victim?
Having obviously spent a lot of time with survivors of sex trafficking and victims of sexual abuse... I feel like we've had so many privileges of the lifestyles we're allowed to live as actors and entertainers. If you don't use it, it's a waste for the world to put you on this pedestal where you have this opportunity; it's a waste if you don't use it. You're going to have moment where you don't enjoy what you're thinking of, or what you're remembering, or what you're having to create in order to make a scene happen like the scene between Naomi and her teacher.
If I have to go through that for a couple hours everyday on set for a couple of episodes in order to reach and change someone's life, whatever I'm trying to complain about over here on my side is way out of balance.
Will the law be getting involved in Naomi's assault?
The police get more involved when Naomi and Oscar hit it off. Oscar sets his sites on Naomi and discovers something about his fellow British teacher and it helps Naomi and the police officers in the case. I can't reveal what Oscar discovers and what happens. The law will be involved and we try to see justice served.
How do you feel about the show dealing with the topic of a gay character?
I'm so excited about Trevor Donovan's character. You're going to see this incredible inner struggle, which is so great of an opportunity. For a straight man, Trevor is so embracing this, which is so good to see. He didn't know this was going to happen, but he wants to embrace this change in his character and he's started to educate himself on the issues of young adults and teenagers in high school being marginalized for being in the LGBT community and coming out and being who they are and being ok with their sexual orientation. 
Maybe someone will watch this show that might judge someone for being in the LGBT community and have compassion for Trevor's character and it will change them and they'll treat their peers better. If it affects one person who's afraid to tell their mom and dad, if it helps give them the confidence, props to the writer and the show for choosing to go this route.
Any other spoilers?
You start to see Naomi work through the issues she had with Ivy. At a certain point, all of the girls start to be friends. The big thing is trying to get Cannon, and Teddy's beginning to realize that he likes men and has to come out about it. I just found out that tomorrow we're going to sit down and talk about writing an episode about Haiti and the work down there. There may be something between Naomi and Ivy will do something where they solidify a friendship and it'll be through the Haiti episode.
What charities are you involved with?
The best way to find out about them is to follow me on Twitter.
The Blind Project, which is an anti trafficking organization: www.theblindproject.com
Saint Bernard Project, which is rebuilding houses for victims of Katrina: www.stbernardproject.org
Artists for Peace and Justice: www.artistsforpeaceandjustice.com 
Thirst Project, which is part of the clean water project: www.thirstproject.org 
Also, on October 9, I will be hosting a silent auction where I will be selling six or seven dresses that I've worn on the red carpet and more items. Kellan Lutz will also be donating some suits that he's worn. It's a way to continue rebuilding the homes in New Orleans for victims of Katrina that are still in FEMA trailers.