We got a new look at the Five-O team this week on "Nalowale," as emotions were exposed due to a kidnapping case that impacted members of the team in different ways.
It was great to Jean Smart as the Governor again, as she is a wonderful actress and showed a lot of heart in the episode. My only wish is that the show had expanded her relationship with the girls a little bit more because you could tell she was close to them. To what extent? That was hard to determine.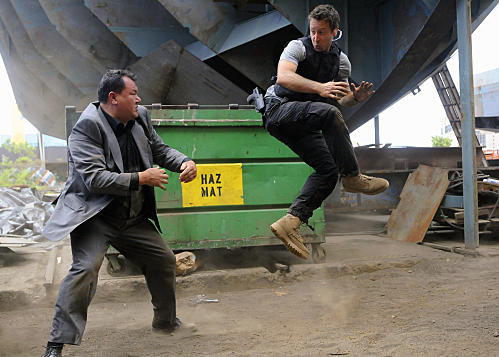 The biggest disappointment was the introduction of the Medical Examiner Max Bergman, played by Masi Oka. Maybe it's just me, but it seems a bit odd to have an Asian named "Max Bergman."
Perhaps I could look past that fact, but I can't get over the horrendous failure in trying to make Bergman OCD and/or an eccentric savant. I'm not sure if it was a failure in writing, acting, or both. But scenes with Osa completely pulled me out of the story and I really hope they tone him down when we see him next.
Seriously,
CSI
is already losing me
due to stupid plots
and characters. Please don't infect my new favorite show with more of the same.
On the upside, we got to see Mary again. She seemed much more together and I'm intrigued by her taking pictures of her dad's investigation items. I'm hoping it's for an investigation of her own and not to sell her brother out.
I also liked both the unique additions. First, Steve has a love interest. I think it rounds him out nicely and gives the banter with Danno a bit more of the light-heartedness it really needed. Also, Five-O actually called in the swat team for the raid on the brothel. It really helped that we got to see them use the rest of the police force.
All things considered, it was another great episode. The good things way out-weighed the Bergman mishap, while it's safe to say that character won't stop me from tuning in again next week. How about you?
Jim G. is a TV Fanatic Staff Writer. Follow him on Twitter.