Not a lot happened on the second season finale of Jersey Shore.
"Back Into the Fold" saw some old tensions rise to the surface, but most of the conflict was resolved by the end. There was a trip to the Everglades for some reason, some Sam-Ron ridiculousness, one final hurrah at the club, a little threesome action, etc.
Standard for the Shore, really. Back to the Garden State we go.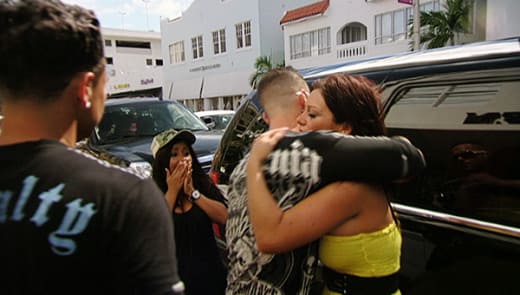 MIKE AND JWOWW: The emotional goodbye.
Much as we love the Shore, this episode (and frankly the last several) felt almost like filler, stock footage MTV might as well air as it strikes while the proverbial iron is hot.
With a new season coming soon, and this one having dragged on for 13 hour-long episodes, it felt a bit repetitive and dull, albeit funny for all the same reasons it always is.
There's only so many times you can watch Sammi and Ronnie argue, see Snooki's coo-ca or listen to the Situation talk about avoiding grenades while smashing grenades.
All good things must end. Just saying.
Follow the jump for some of last night's best lines, and be sure to visit our library of Jersey Shore quotes for the infinately memorable wisdom from every episode to date ...
JWOWW: I'm upset with you because I heard that you called me fake.
Pauly: When did I call you fake?
JWOWW: That's what I heard.
Pauly: From who?! | permalink
Mike: I'd like to give a trophy to who did the least in this house. Let's vote right now.
Sammi: I don't give a f**k. | permalink
Pauly D: The girls wanna have a threesome with you, that's not an issue. | permalink
Sammi: Why are you with me?
Ronnie: I'm in love with you. Why? I can't help the way I feel. | permalink
Sammi: I like to be with my boyfriend at all times. Do you get that? | permalink
Pauly D: I'm not going to smash it out with Rocio before I leave. Umm, it's not that kind of chick. I don't need to, I want to get to know her first. | permalink
Pauly D: Youse are all f*%kin' nuts!! | permalink
Pauly D: Aww yeah, last cheer yeah! | permalink
Snooki: A crow comes and it starts quacking at us ... or not quacking, what does a crow do? | permalink
Pauly D: How do you spell likely? | permalink
Pauly D: The hamburger meat looks like Vinny's chest hair! | permalink
Ronnie: Mike's definitely a pot stirrer, yes, he likes to cause a lot of problems and then go take a nap after he does it. | permalink
Snooki: If you want me to cook and poison everybody and we're gonna be dead in two minutes? Whatever. | permalink
JWoww: I am not f*%king any of my roommates... therefore I should not be cleaning up after their sh!t. | permalink
Vinny: When you actually have a good girl out there, say no to hoes. | permalink
Vinny: Okay, they're not the prettiest girls in the world. Sometimes if you mix two grenades it might make one good lookin' girl. | permalink
JWoww: I hate frogs. | permalink
Snooki: I am so excited because we are going to see the crocadillies. | permalink
The Situation: The bugs in the Everglades are huge. They're about the size of Snooki. | permalink
Pauly D: That air boat is serious, the propeller is huge... that'll work better than my hair dryer, maybe instead of 25 minutes to do my hair it will only take 10. | permalink
Pauly D: Aww yeah, crocodile's gonna eat me, yeah! | permalink
Steve Marsi is the Managing Editor of TV Fanatic. Follow him on Google+ or email him here.