NCIS Review: Always Leave 'Em Wanting More
Steve Marsi at .
Whether it's Tiva moments or good old-fashioned crime-solving mixed with laughs you're after, NCIS always leaves you wanting more. That's no small feat after seven-plus seasons.
"Dead Air" was particularly strong in that it was our first truly Ziva-centric episode of the season, both professionally and personally. As usual, Cote de Pablo shined in every scene.
Just your knee? We have our doubts, DiNozzo ...
Tony's body wasn't prepared for the rigors of suburban sleuthing.
Focusing on domestic, suburban terrorists marked a nice change of pace from NCIS, and very Arlington Road-esque (a parallel that did not escape Tony before he lost his voice).
The mission of MAH (Military At Home) was to keep America's military and resources on the home front, and they planned to set off a bomb on U.S. soil to deliver that message.
Of course, in typical NCIS fashion, the person killed at the onset, in this case a loudmouth talk radio DJ, was only linked to the greater plot through a series of intricate steps.
It turns out he nixed the opportunity to be the de facto media voice of MAH, and was taken out as a result, setting up dueling mysteries: Who killed him and where is the bomb?
Businessman Arthur Haskell, his neighbor Zach Nelson and the mailman, Matt Lane, were all involved in both, although the precise details of who and how took some unraveling.
First, NCIS busted the arms dealer about to sell MAH a detonator and sent Ziva in to act as a competitor and uncover the plot. Her undercover alter ego? Ziva David, circa 2005.
That was a fun wrinkle, knowing MAH would dig into her past before making any deal and that her pre-NCIS file would suffice, being a rogue Mossad assassin and all. Bad-ass.
This development also prompted Tony to recall the old days when "more sexual" Ziva 1.0 joined their ranks, and how wonderful it was to share a bed with her way back then.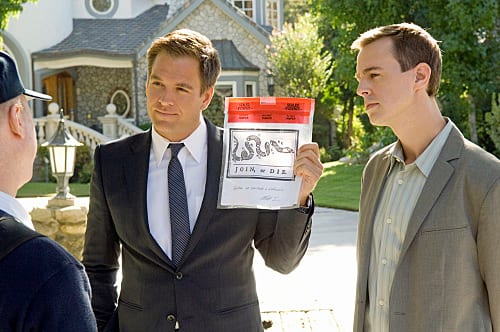 Tony and McGee had their suspicions of the mailman from the get-go.
McGee insisted that was all an undercover act ... right? Tony took that opportunity to rest his voice (strained from sprinting one whole block), conveniently. Gotta keep 'em guessing.
Gibbs deciphered that the killer was Nelson, but when the bomb ended up stolen after Haskell finalized the deal, another major twist was thrown at the team and viewers alike.
The target was a tower at a Norfolk naval base, but the mailman, Lane, was apparently distraught that Haskell scored the detonator with Al Qaeda funds and went rogue himself.
A kids' softball game, tied in nicely with the baseball references throughout the night, was his new target, given that the parents of the kids were all high-ranking military officials.
NCIS showed up in the nick of time to evacuate the field, with Ziva tackling Tony just as the grill exploded. A swoon-worthy moment for Tiva fans for sure. Just like old times ...
If there was a weak point to the episode, it was the ending. The game just didn't seem a worthy target for a sinister plot of that caliber. We know he called an audible, but still.
Finding fault with NCIS episodes remains difficult when you're both riveted by the case and similar ear-to-ear throughout, however. "Dead Air" certainly delivered on both fronts.
Whether pining for Ziva (past and/or present), going on about our national pastime or struggling to speak in the interrogation room, Michael Weatherly cracked us up this week.
You may care about a romantic connection between Tony and Ziva or you may not, but both characters shine independently and the interplay between them is so entertaining.
They always leave you wanting more.
What did you think of last night's NCIS? What were your favorite lines, and what would you like to see more of in the coming weeks? Comment below!
Steve Marsi is the Managing Editor of TV Fanatic. Follow him on Google+ or email him here.