We've got some weddings to crash. - George
The funniest moment(s) of "No Ordinary Ring" centered around watching Michael Chiklis dance to an Usher tune, under the instruction of Romany Malco, in practice for an hour of wedding crashing. Priceless.
The moment Chiklis said "check it," I (along with probably 90% of viewers) busted out laughing. Malco and Chiklis might actually give Vince Vaughn and Owen Wilson a run for their dancing money.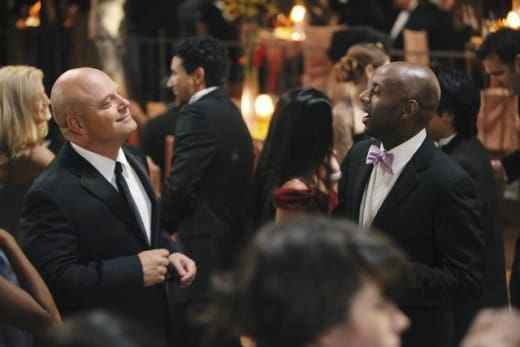 [Photo: ABC]
To me, Jim still feels like he's not living up to what he should be as a husband, and now as a superhuman. He's trying so hard to fight crime with whatever power he's given, doesn't always succeed and has Stephanie tell him that he doesn't know what he's doing. Still, the man is trying.
Overall, George and April provided some great comedic relief. April is so freakin' cute, dressing up like she's going to be performing the heist rather than waiting outside. George reciting U.S. cities to keep Daphne out of his mind was a nice comedic touch, as well.
Kay Panabaker also put on a great performance this week. It's hard to see Daphne holding all of the family secrets on her shoulders, including her own powers. I'm glad Stephanie was happy to let Daphne confide in Megan. After all, Stephanie and Jim have confidantes, why shouldn't poor Daphne? Unfortunately, Daphne chickened out. She might reach a breaking point if she doesn't open up to someone soon.
Elsewhere: JJ, under false pretenses, going temporarily Jewish to impress a girl was such a cute domino effect of Daphne's lies to him. Her mind-reading also caught Jim in a lie, causing her to lose some trust, as any daughter would if they found out their father lied. I wonder if she maybe played with the thought that he was cheating when she heard in his mind that he was going to a hotel?
Finally... Dr. King is on to something! That lab cam footage shows evidence of something or someone being in the lab, but it is unknown that the someone is Stephanie. I suppose her and April didn't consider that moment of stillness while she switched the blood samples.
That man is dangerous, Stephanie, you might need that strong husband of your if and/or when Dr. King pursues you. Just try not to interrupt his dancing.