Recent sneak previews hint at a handsome new love interest for Serena on Gossip Girl, starting on tonight's episode! That handsome fellow is Colin, played by Sam Page.
TV Fanatic spoke exclusively with Sam about his character, what it's like to work with Blake Lively, his recent stints on Mad Men and Desperate Housewives and much more.
Here's our Q&A with the busy actor ...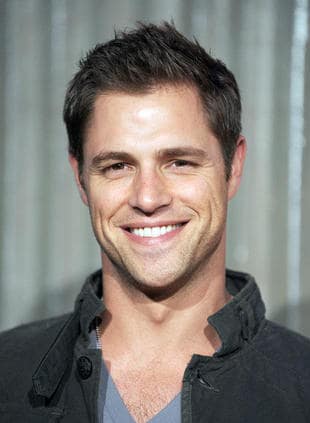 Tell us about your Gossip Girl character.
A lot of Colin unfolds throughout the episodes. He's an extremely eligible bachelor in New York City. He's a very successful business man in the world of finance at a young age. He's got an eye for Serena. He has amazing taste, and he dressed impeccably. That was a lot of fun.
Did you get to keep any of your wardrobe?
Not a single sock, but I owned it while I was wearing it! I pretended that I owned it.
Does Serena get whatever she wants?
Certainly seems that way. Yes she does. There is an inherent attraction between the two that they fight as much as they can, but it's kind of undeniable.
How was it to work closely with Blake Lively?
Fantastic. She's a pros pro. She really knows the way production works and how things are shot. She truly understood the character and the scenes, but the shots as well, which was really impressive. She's lovely to hang out with, and have fun with.
The great thing about her is when you're around her you get away that she's got this very real, genuine, and grounded confidence. When you're walking into a situation like I did, I knew I was coming in to do a handful of episodes, but it's a show in it's fourth season ...the second scene we shot was on 57th street and I couldn't believe how many people gathered to watch.
The cast, everyone from Blake to Leighton (Meester) to Ed and Chace (Crawford) and Penn (Badgley), it just didn't faze them at all, so to work off of that was never a problem.
It's a very welcoming ensemble, and the crews fantastic and helpful. It was a very easy thing to walk into. I couldn't have asked for a better welcoming.
How was it working on Mad Men?
That is a really special place to work. Matt Weiner is very hands on. He's around for just about every rehearsal to watch, so the bar is raised very high just for rehearsal so you have to come in prepared and ready to work, and also ready to take the adjustments from Matt himself.
As brilliant as the writing is, there's still something in Matt's vision that's very focused and precise that isn't necessarily in the writing. It's amazing to have him around to help convey that. It's a pretty impressive set to be around, because everyone there is grateful to do something that is this special.
How was the cast of Desperate Housewives?
Also, a really fun place to work. Of the three shows, Gossip Girl, Mad Men, and Desperate Housewives, I've been very fortunate that they are all extremely fun places to work.
I had long arcs on all of them, and on Desperate Housewives I didn't know what to expect, because you never know if anything you've read about the environment is true, but it was really friendly and there was a lot of laughing.
Most of my scenes were with Marcia Cross, and she is an absolute joy and pleasure to work with. We hit it off, so I can attribute a lot of what people might have likes about my performance to Marcia. I'm incredibly grateful to her.
Out of the three shows' characters, which would you say you can relate to the most?
I think the Gossip Girl character. He has a lot of fun with people. Not at their expense, but he enjoys interaction. He has a confident happiness to him, which was really fun to play, as opposed to the characters I had been playing.
There's something about Greg on Mad Men and Dan on Desperate Housewives, there's a really lost aspect of them and Colin is very comfortable and happy.
You should know, when you type your name into Google, the most popular next word that comes up is "shirtless." How do you feel about that?
[laughs] It depends on what the link takes you to. I haven't done it. What pictures are there? [laughs] I don't know how I feel about that, I should be so lucky that that's something that people find interesting. I assume that can only help me. [laughs]
Anything else you have in the works?
I just started working on The Event, and my first episode airs Monday. My scenes are with Jason Ritter. Initially a series of phone calls between the two.
We're asked not to talk about which episodes we're in for Mad Men, but I can certainly recommend that people keep watching Mad Men.