Two and a Half Men Review: "The Immortal Mr. Billy Joel"

Eric Hochberger at .
It's actually amazing it's taken Alan eight seasons of Two and a Half Men to pretend to be Charlie during one of his brothers' many weekend getaways.  We definitely thought this little sleaze would have pulled that scam off years ago.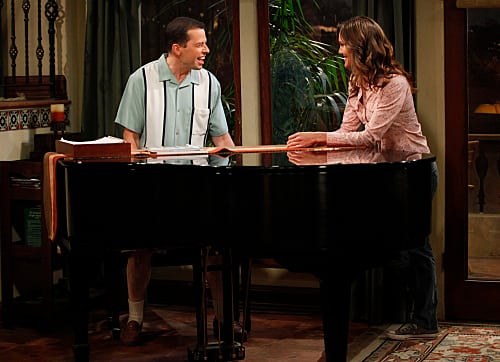 While Charlie pretended to go to Vegas, he actually ended up getting plastic surgery.  Highlights from his little adventure included a scary appearance by a chemical-peeled Evelyn and the fun little twist at the beginning when we genuinely thought he was in Vegas with a whore.  First time?  Really?  We admit it, we fell for it.
Alan, meanwhile, stole the episode with his ridiculous attempt to be Charlie.  We probably could have skipped the scenes with his physical comedy as he attempted to wrestle with his couch and then posed in various positions in his underwear on Charlies.  Except for the Hooker Bucks envelope.  That was key.
However, once Alan put on Charlie's signature outfit, the hilarity ensued.  Our favorite moment is tied between the butchering of songs by "The Immortal Mr. Billy Joel" and the tattoo-covered Neo Nazi not being a deal breaker.
Overall, it was a great filler episode designed perfectly for syndication.  What more could you want from Two and a Half Men?  If you're expecting more, find a different show.  Now for our favorite lines from the episode after the jump.
Evelyn: That 60 Minutes report on Dr. Shankman was entirely one-sided, just like that poor woman's vagina. | permalink
Charlie: Does she still have a Hitler mustache on the Russian front?
Alan: I wouldn't know. I was blindfolded and hog tied. | permalink
Jake: You're cheap.
Alan: I'm not cheap. I'm broke. There's a difference.
Charlie: He was cheap long before he was broke. | permalink
Alan: Do you have any idea how long it would take me to earn that kind of money?
Charlie: Oh don't think like that. You're never going to earn that kind of money. | permalink
Eric Hochberger is the programmer of TV Fanatic, so please forgive his mediocre writing. His programming is far better. Follow him on Twitter and/or email him. Just don't request threaded comments. They're coming.