In contrast to the film noir styling of last week's episode, "Bright Lights, Dean City" went back to being a standard offering of color and style and showed us how Dean Venture spent his summer working.
With the recent release of Phantom Limb, along with him working with Professor Impossible, it really should not come as a surprise to anyone that the two of them (along with Baron Underbheit) are forming a new villain team, The Revenge Society. But they ran into a few hiccups along the way. The biggest obstacle? Recruiting new members. Though the appearance of man in a bear suit, with blood on it, holding a knife and not saying a word did rattle the team a bit (as it should).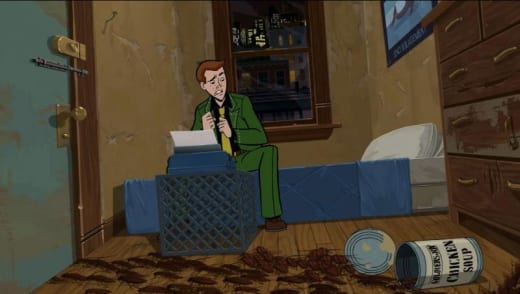 We also learned that Dean's real dream is to be a boy reporter. Last week, we discovered that Hank wanted to be a detective.
It is interesting that neither of them wants to follow his dad into the science and adventure realm. Then again, Rusty Venture really wants to have a hit broadway musical, so maybe it's not really the family dream after all.
In conclusion, what did we learn in this week's episode?
First, if you want to have a successful super group you need to remember S.P.A.W.M. (Speed, Power, Air, Water, and Magic).  Second, if you are ever sucked into an alternate dimension and the other "you" is more successful, it is not okay to just hit them on the head with a rock and take their life.


Jim G. is a TV Fanatic Staff Writer. Follow him on Twitter.