Bored to Death Review: Escape From the Castle!
at .
With only one episode left of the season, Bored to Death finally brought it.
All season long, I've been waiting to be really entertained. Don't get me wrong, there definitely have been a couple outrageously funny episodes, but I've always felt like this show could be better.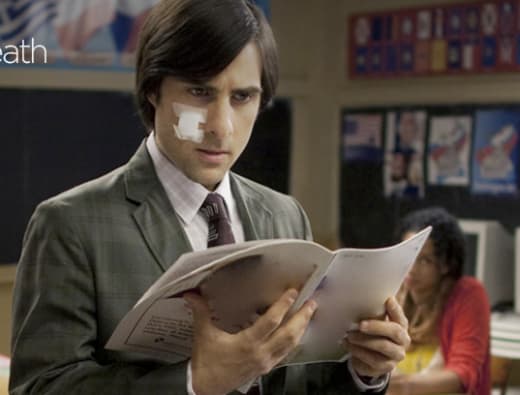 And, boy, "Escape From the Castle!" had everything there is to love about this zany show!
Jonathan's new case involves him bringing a love letter to a woman named Hee Cho that works at a bath house.
Of course, Jonathan seizes this moment to kill two birds with one stone and invites George and Ray there to celebrate Ray's birthday.
It was superbly humorous watching these three men awkwardly change with all the naked men around them. As much fun as it would be to see one of the three bare it all, I am happy that they chose to leave it to our imagination.
Jonathan's Scooby-Doo get up was by far one of the funniest scenes I've seen on this show, hands down.
Really, did Jonathan think wrapping his hair in a towel, stuffing his chest, and wearing a towel to cover his man scruff would trick anyone? He might as well have gone in as himself.
I was pretty surprised to find out that Hee wasn't a she after all. Perfect name for a tranny, don't you think? It was pretty great watching him/her go off on a romantic boat ride with her lover at the end. Do you think the dermatologist knew that Hee was a he and not a she?
I really wasn't expecting the action scene at the end. Especially when the Asian goons took out there guns and pointed them at Jonathan. Super Ray failed at coming to the rescue, but once again he provided the laughs when he fell into the grave.
Ray has to be my favorite character on this show. He always has great one liners and never fails to bring the humor. When George questioned him about his love life, I was on the floor laughing. How can he be so nonchalant about his current lovers? I mean, one of them truly believes she's an elf!
So Ray's birthday may not have been the day he wanted, but it sure was hilarious! Just like last season, Bored to Death finally gets me hooked towards the end. Why couldn't the writers make the whole season this entertaining?
Until next week's season finale, here are a few of my favorite Bored to Death quotes from last night:
George: Hey, Jonathan told me that you are quite the ladies man nowadays.
Ray: That's right, I've been with two woman since Leigh left me. A drunk and an elf. | permalink
George: Why are you always picking on me? I don't procrastinate. I just like to do things later. | permalink
George: Oh Ray, Happy Birthday!
Ray: Oh you shouldn't have, but I'm glad you did. | permalink
Jonathan: Now you want a spanking?
Nina: Don't break character. | permalink
Dermatologist: I've never used a PI before.
Jonathan: That's okay, most of my clients are virgins. | permalink