Once again, Castle has proven why it is one of the most fun shows on television.
The episode "Almost Famous" was true Castle all the way: witty one liners, an outrageous case, some screen time for Martha and Alexis, and no sight of Gina anywhere. Perfection.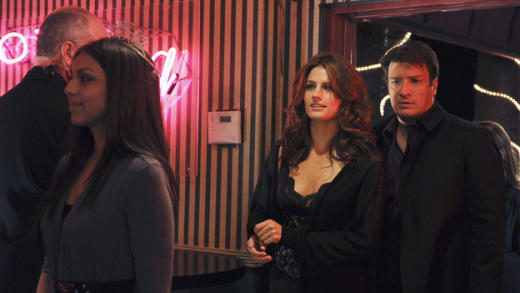 [Photo: ABC]
The murder mystery focused on the death of a male stripper, giving us a chance to witness Castle and Beckett in a strip club. This couldn't have been a funnier scenario. Castle was not impressed with the played-out firemen act, and Beckett looked fantastic in that little black dress she was rocking.
Maybe the best part of the whole hour focused on Ryan and Esposito, who are always dependable for some laughs. The two visited the stripper's boss, who offered Ryan a job because he kept getting requests for that
Twilight
kid! Esposito didn't get an offer because they already had enough "A-Rods."
Did anyone else notice the girl with the poof that was interviewed by the detectives? She mentioned the names of Sammie, Ronnie, and Vinny. Gotta love a Jersey Shore shout out.
That is part of the reason I love this show. Sure, some of the cases are extreme and a little absurd. But the writing is always fantastic, the acting is great, the one-liners are the best, and they still find ways to throw in some pop culture.
The investigation was not one of my favorites. It started out fun, but the twists and turns introduced characters that were not necessary. More time spent in The Package Shop would have improved this episode.
"Almost Famous" was not Castle's best installment, but was still enjoyable. Another episode without Gina is always a good one, and I'm intrigued to meet Beckett's surgeon boyfriend. How about you?