CSI: NY Review: "Scared Stiff"
at . Comments
An axiom from Sherlock Holmes suits this week's episode, "Scared Stiff," well.
Sherlock once stated that, "when you have eliminated the impossible, whatever remains, however improbable, must be the truth." And, so, a divine balance was played out between ghost stories and the truth found only in the evidence on CSI: NY.
This episode was a delight, and I'm a little disappointed that it didn't get to air a little closer to Halloween when it could have really spooked and excited. Then again, I think the paranormal undertones worked well regardless of the season.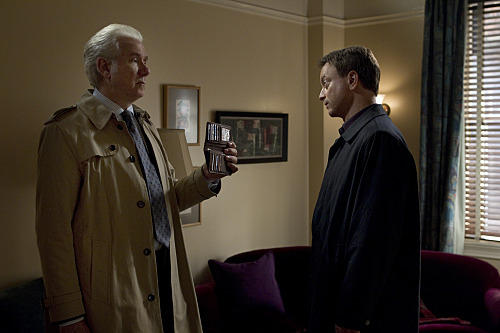 The CSIs traded fantastic ghost stories during the first half of the episode and set the tone for creepiness in the rest of the show as the team investigated the death of a woman who was suffocated with no outward signs of an attack.
It was also nice to hear a black widow spider myth debunked by Danny that set Flack straight.
The secondary story of Chief Carver's sister's body being discovered was a fair distraction and an obvious set up for next week's episode. I was as engrossed in the mystery surrounding the chief's sister as I was in the main story. In point of fact, I was disappointed when the episode ended and I realized I was going to have to wait a whole week for the answer to that sub-plot.
John Larroquette has done a stellar job as Chief Carter, and his character's relationship with Mac Taylor is an odd mix of respect and annoyance.
The character of Jo Danville (Sela Ward) seemed to have found her stride now that a handful of episodes had elapsed. The character seemed more comfortable in the team dynamic, but there remained a nagging sense of over perfection that has been with the character from the beginning.
She seemed a bit too good for the New York team at the start, but I have begun to see the tiny flaws that kept the character from being a complete saint.
I've been very pleased with this season of CSI: New York. There have been some mediocre episodes, but for the most part the show has been strong. This was a relief since the exit of one main character for another held the possibility for disaster.
Happily, CSI: New York has avoided that, and hopefully it shall continue to.