Finally... some continuity!
The pesky teacher was the subject of the hour on No Ordinary Family this week. What an awesome time I had watching JJ and Stephanie work together to save an innocent life with their powers.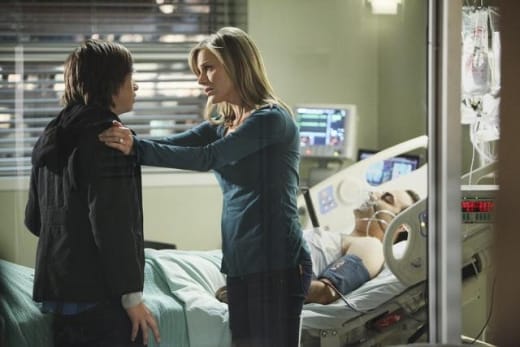 [Photos: ABC]
It was awful to see Jim be the brunt of the family power-loss. He felt useless again on "No Ordinary Accident," without his abilities and back to the state he was at when we first met him.
Out of all members of the family, I felt Daphne should have lost hers this episode, as she ended up telling her date that she lied (via reading his mind, as well as a Japanese chef's). Fortunately, Jim's powers eventually returned.
It seems like Dr. King saved "Will's" life somehow, and he does seem like a genuine guy who is sincerely interested in Katie. With what did Dr. King shoot him up at the end?
I'm at a loss for review this week, as the hour centered around Jim's loss of powers, along with Mr. Litchfield's accident and surgery. But at least this episode left me in better spirits than any other installment this season.
What did you think of the episode?