Get ready to say goodbye to Gossip Girl. Well, in a few years.
Leighton Meester tells E! News she knows when she's leaving.
"Two more years," she said at the Four Seasons in Beverly Hills, while promoting her new movie, Country Strong. "Because we're under contract until then."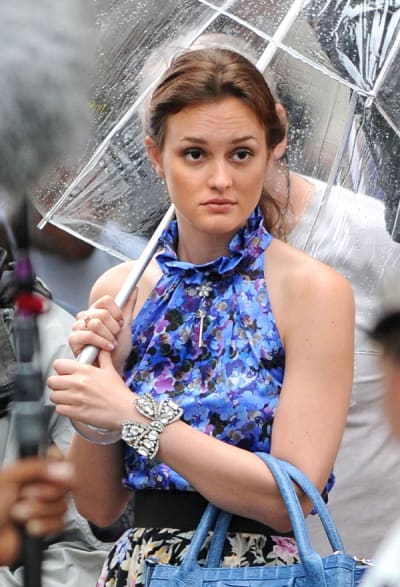 Meester said she "obviously enjoys working on the show and living in New York," and she also explained that producers and the CW have all been rather amazing at accommodating her schedule and enabling her to pursue other projects, particularly movies.
"It allows you to be ready for when the show's over," she said.
So will Gossip Girl cease to exist after its sixth season? "I don't know," Meester said, "but I think there's that old saying about wanting to go out on top."
In Country Strong, Meester costars as Chiles Stanton, a singing beauty queen seen as a threat by Kelly Tanner (Gwyneth Paltrow), a rehabbing alcoholic country singer trying to make a comeback under the watchful eye of her manager husband (Tim McGraw).
"You know, it's good to look in the mirror and not totally recognize yourself," Meester said of playing the country cutie. "You know ... she's got big hair, big eyelashes, nails, lip liner, blue leather dresses. It was a lot of fun. It was like playing dress up Country Barbie."
Meester will also be seen in upcoming flicks like Monte Carlo opposite Selena Gomez and Glee star Cory Monteith, Oranges with Hugh Laurie and The Roommate, a thriller with Burlesque / Twilight hottie Cam Gigandet and Minka Kelly.
Will Gossip Girl mean the end to TV for Meester? "Um, I never say never," she said. "It'd have to be the right show, just like it would have the right movie."
What do you think? Should Gossip Girl "go out on top" after six seasons? We're currently in the middle of the fourth. Leave your comments!
Steve Marsi is the Managing Editor of TV Fanatic. Follow him on Google+ or email him here.