NCIS: Los Angeles is always a fun show with enjoyable characters, witty dialogue and pulse-pounding action, but it rarely lives up to its predecessor in terms of plot complexity.
Last night's episode gave NCIS a run for its money, though.
"Disorder" saw Kensi become close with a former Navy officer suffering from PTSD, providing a surprising glimpse into this special agent's past. And that was just the beginning.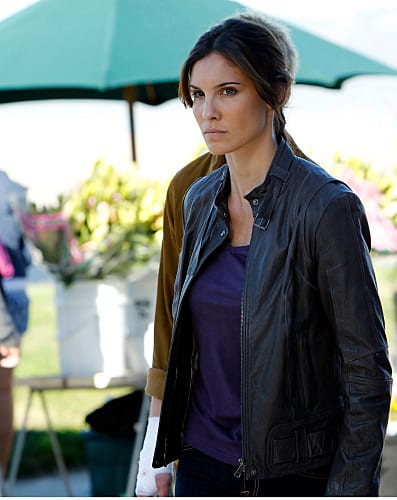 Kensi earned some physical and emotional battle scars this week.
The ex-Navy Intelligence agent, Brett Talbot, admits killing two people in a panic at his L.A. home. He is so unstable, the team fears trying to pry him for info on what happened.
That's when Kensi reaches out with a startling admission - she was once engaged to a Marine whose post-combat stress issues ultimately tore their relationship and his life apart.
Listening to her talk about him "hitting the ground" when he came home and how their lives were never the same surely resonated with countless men and women nationwide.
From the moment she divulged this, Agent Blye became more vulnerable than the female Jason Bourne clone we're used to. Still, we weren't prepared for all the twists to come.
The case was complex and Talbot troubled enough that it was hard to see him as a cold-blooded sociopath. This goes for both viewers and for Kensi, who nearly paid with her life.
Tablot's victims were his nurse and a drug dealer, both of whom he says he killed in self-defense, although the details are hazy. Or are they? Not according to Callen and Sam.
They find a former fiancee who tells them Talbot is a sociopath and pathological liar. Just as they try to warn Kensi, the nut job catches on, bashes her in the head and flees.
NCIS then pieces together what had been in front of the agents all along, but disguised with the most unusual and deceptive of alibis. Talbot had FAKED HIS PTSD for years.
I love it ... did you make it yourself?
This was his "out" after he sold intelligence secrets to the Iranians, and a brilliant one. How would anyone know, with mental illnesses so hard to diagnose and treat as it is?
Unless his nurse was pocketing the drugs to Talbot and other patients to sell on the black market, replacing the actual meds with sugar pills, and noticed he acted the same.
The nurse brought a drug dealer to strong arm Talbot into giving them a cut so he killed them. This was no accident, self-defense or PTSD-induced meltdown. Just murder.
When Kensi catches up to Talbot, she promptly answered concerns of whether she could put her feelings aside, taking him out on the pier without hesitation. Our girl is back.
"Disorder" was a solid episode featuring some nice character exploration, with particularly sharp writing and some great moments of comic relief. Sounds like our NCIS reviews ...
Until January, some additional closing thoughts:
"I had a dream I was being visited by the three wise men ... and then I saw Deeks." - Kensi, waking up in a daze after being clocked by Talbot.
Her threatening to "Ben Gay" Deeks' shorts if he scratched her car brought back some terrible fraternity hazing flashbacks, am I right guys? Hello?
You have to love what Deeks' "date" really was.
Only if you're the boss can you re-gift that blatantly. We've all done it, but not to the same people. Gotta love inviting them to say something, knowing they won't.
Nice ride, though, Hetty.
What did you think of last night's NCIS: Los Angeles? Comment below!
Steve Marsi is the Managing Editor of TV Fanatic. Follow him on Google+ or email him here.