Love her or hate her, Taylor Momsen probably doesn't care. Nor does she care about censoring herself, even if the taboo subject is her own masturbation habits.
In a revealing new interview with The Guardian (UK), Taylor said unabashedly that "I'm a promoter of masturbation. Don't sleep around ... learn yourself first!"
"Guys do it, but girls don't. They should. That's why girls have so many bad experiences. But you can know your body, know yourself, know what feels good."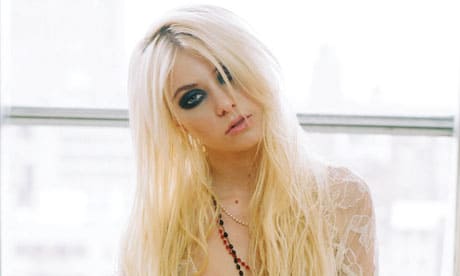 OUTSPOKEN RACCOON: Jenny Taylor does not hold back!

"You don't have to give yourself away just to have sexual relevance," she adds.
"I don't think sex is something people should be afraid of. It's part of human nature. I don't think it should be so shameful, particularly for girls and young girls."
What do you think? She may regret all these comments one day, and might want to learn some restraint, but could it be that she doesn't make a terrible point?
Maybe if more young people held out instead of putting out, they'd be better off in the long term. Imagine if Jenny never gave it up to Chuck! We rest our case.
As for why she seems to get naked all the time?
"If you're in high school, or college, or work, someone's not going to like you. It's inevitable," she says. "It doesn't mean anything. People say, 'Do you care what people say?' I'm like, 'My goddamn tampon's on the Internet – do you think I care about anything?'"
She's referring to a photo taken of her on stage  that ended up online. "It's f**king douchey," she says. "I saw him as well. My dress isn't that short – it's not like you can see my fucking vagina – and the guy gets down on his knees and shoots up my skirt."
"Would I want a picture of my tampon string on the Internet? Nnnnnnnyo. I'd probably say no if I had an option. But, y'know, what you gonna do? It's there."
Does she take pleasure in being shocking? Even a little?
She says no, and insists the recent topless concert photos of her only happen "Because it's in the video! It's an imitation. Doesn't everyone do that? Recreate their video on stage? I'm serious! And I didn't flash my boobs. I had tape on them."
"It was a spontaneous thing – there was some tape in the dressing room, and I'd been wanting to do that for a while, so I just did it."
The video in question, for The Pretty Reckless' "Make Me Wanna Die," features Momsen stripping in a graveyard as she walks towards the camera.
"It was held up in legal for a long time because I was 16 when we shot that," she says. "We couldn't release it because, yes, I actually got naked."
"It's such a complex song – and the video really reflects the song, in the way that I'd die for this person. And the point is: if you don't do something that's making you happy, you're just working through possessions and shit; you're dying with nothing anyway."
"So I'm stripping off my worldly possessions and giving them away. And then there's hell raining down, just cause it looks cool."
There you have it. Love her? Hate her? Either way, tell us!
Steve Marsi is the Managing Editor of TV Fanatic. Follow him on Google+ or email him here.