The Office always attempts to go big for Christmas, and although this week's one-hour episode didn't live up to some of the holiday extravaganzas - most notably the famous Yankee Swap - "Classy Christmas" still had plenty of laughs, dramatic stakes, and questions of the future to keep me entertained throughout.
Instead of the main focus being how Michael was going to ruin Christmas this time, the episode centered mostly on the return of... Holly Flax!  And what a glorious return it was as she and Michael went blow for blow on western references, wise guy references, and finally huggy monsters.  Why would Jim have put a stop to such a hilarious interaction?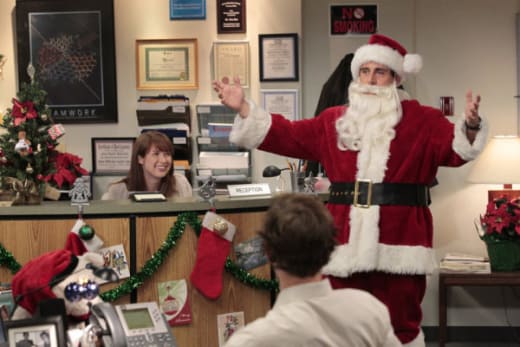 Maybe if Holly was around all the time, the similarities between her and Michael would begin to get old, but the little time has spent in Scranton overall has been perfect.
Michael really doesn't know what to do with himself when he has someone who acts as ridiculous as he does, and it's a joy to watch him get so excited.
Then, there is the fact that Holly is, in fact, in a serious relationship with AJ from Nashua.  Apparently, Michael forgot this was going on, or idealized that Holly had broken up with him before returning to Nashua.  Watching his heart break over Holly for the second time was both cringe-worthy and heartwarming.  For as out of this world Michael is at times, it is great to see him as a human time and again.
Was this Michael's first big step towards leaving the series on a high note?  Thanks to the help of Pam, he realizes that getting Holly is a possibility, but he just needs to be patient. 
As he puts in the effort to put the Santa suit back on, and make the day of Darryl's little daughter, both Holly and I definitely noticed.  Do they end up together by the end of the season?  Or does Michael just become a better person because of the journey he takes to try and win Holly back?  It creates a lot of situations as we enter the back half of Michael Scott's final season on The Office.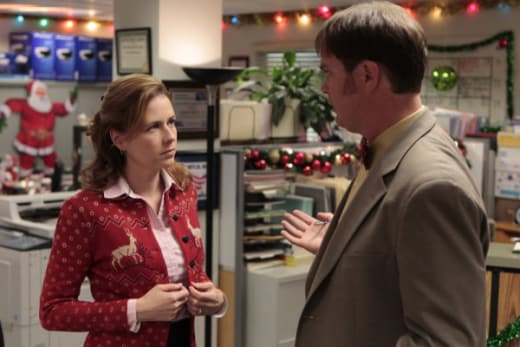 This week's B and C stories played out very nicely, and finished by coming together in a sense.  There is nothing like watching pure enemies at work.  It was great to have another vicious battle between Jim and Dwight, even if Dwight was getting the better of Mr. Halpert for the entire episode.  Watching Jim suffer as Dwight jumped out of a snowman and pummeled him with snow ball after snow ball was absolutely hilarious. 
When Dwight told him to put ice on his new wounds?  I completely lost it.
After Jim's attempt to nail Dwight with a snow ball from a lacrosse stick fails miserably, Halpert continues down a road of sorrow until he receives his Christmas gift from Pam.  All day long Pam had been showing everyone in the office her gift for Jim, a homemade comic book about him.  She was so excited about it, but no one at Dunder Mifflin really seemed to like it, so it really made me happy when Jim was speechless upon opening it.
There haven't been too many good-natured, heartfelt moments this season, so watching Jim in his testimonial was really kind of beautiful.
Other Thoughts
This week's cold open, where everyone tried to jump in the air to get an office picture, was decent but nearly as good as some others this season.
I loved Michael coming into the office expecting many things to be going wrong.  You could tell he didn't know how to handle a Christmas with no problems.  I knew this couldn't keep.
I don't know what the point was of Erin thinking Holly is the worst catch ever, but it was really funny regardless.  I mean, Holly has to be a good cook, right?
Speaking of Erin...I love when the cameraman becomes a character on the show.  He asks Gabe for seemingly the umpteenth time if he and Erin are still dating. It's a good question!  You're not good enough for her Gabe!
We also got some nutty Michael tonight, as he claimed that the Scranton Strangler "just took one more person's breath away" after finding out Toby would be going on his trial and therefore Holly would be coming back to Scranton.
Creed on Holly: "She's one sassy black lady."
Just love, love, loved Ryan giving Pam serious criticism on her comic book for Jim.  He is having a fantastic season.
A slew of great The Office quotes this week. We've collected them all!
Dan Forcella is a TV Fanatic Staff Writer. Follow him on Twitter.