I was anxious about this reboot of Being Human. The British version is currently going into its third season, and, as an avid fan, I wondered how I'd receive a new version of the characters I already know so well.
It turned out not to be so difficult. The most refreshing aspect of the series premiere was the casting of Sam Huntington as Josh. He brings to the character a self-deprecating humor that makes him difficult to resist.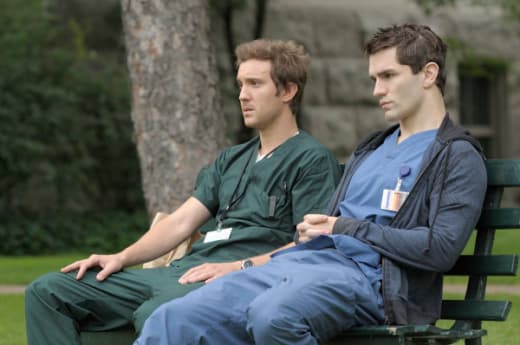 Elsewhere, Sam Whitwer is darker than his British counterpart. Formerly a vampire that had some fun-loving aspects that made him a ladies man, this version has a slightly sinister irresistibly. We all know how some women love a bad boy, and agreeing to a night with Aidan might be your wicked dream come true... or your worst nightmare.
The original Sally was a bit more wistful and hopeful than Meaghan Rath's creation. She tries to be cheerful, but you can feel the desperation at having spent the last six months dead and alone, not knowing what to do next. Her business is unfinished and she is afraid if she leaves the house, she may never come back. So she "haunts" the place where she died, although she doesn't know how it happened.
Josh and Aidan work as nurses together at a hospital, and it's not immediately clear how they know about each other's afflictions. I'm not sure it's bought up in casual conversation, so perhaps it is something they can sense in one another, the same way that they can see and interact with Sally. Tired of the fear and lies they live with daily, they decide to combine their efforts in an attempt to be human.
What attracted me at first to the BBC version was that outside of Angel, The Munsters and The Addams Family, there haven't been a lot of shows that portrayed how a monster might want to be human. They are normally glorified, romanticized versions of creatures loving their new fate, or, at the very least, giving into it without much guilt.
The idea at work here is that we are all monsters. We all start our days with a lie. We color our hair, wear makeup, put on perfumes and fancy clothes; all in an attempt to be someone greater than we think we are already. To stand out from the crowd.
Sometimes we take a walk on the wild side, but we can just flush that away by saying, 'hey, I'm only human.' What if you couldn't just easily wash away those monstrous intentions, if the one-off mistakes happened not because of your foolishness but because it has become your very nature? How far would you go to get back your humanity?
Although it basically followed the same script, SyFy's Being Human stands apart from its sister show. If anything, it was tweaked just enough to give us more with which to empathize. Josh could quite easily be one of my best friends, Aidan a guy I'd want to take out for a spin and Sally a confident. It's these characteristics that stand out and will make you want to invest in these lost souls on Being Human. Because, really, are we that different after all?
Carissa Pavlica is the managing editor and a staff writer and critic for TV Fanatic. She's a member of the Critic's Choice Association, enjoys mentoring writers, conversing with cats, and passionately discussing the nuances of television and film with anyone who will listen. Follow her on Twitter and email her here at TV Fanatic.