Welcome back to CRU!
The season premiere of Greek did not disappoint. Our favorite students were back in action, showing that everyone has to grow up at some point.
On "Defending Your Honor," the seniors were graduating, making me question how the show was going to handle having some of the main characters out of college. Fortunately, the writers have found a way to keep them mostly included.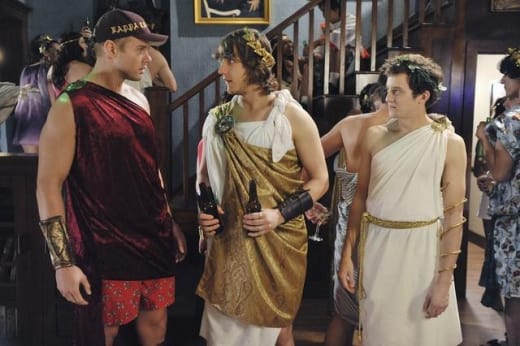 [Photo: ABC]
I am loving Rebecca as the new ZBZ president. She is going to be such a total control freak/mean girl that will be sure to cause some laughs. The exchanges with Dale were priceless, especially the catty fight after the toga party!
Rusty is such an adorable little brother. He stands up for Casey every chance he gets, even if it's to his KT big brother. Trying to run against Cappie for president because he hurt Casey was such an awesome move. Here is hoping that Rusty settles into a good spot this season, both in the house and in a relationship.
Now, on to the bright spot of the hour: Casey Cartwright. This girl has been my favorite since the beginning of the series. Even though she can be super selfish and not so nice, her Bambi eyes suck me back in every time. Watching her deal with Joel was great. Grown up Casey is fun and I am pumped that she is staying at CRU.
Cappie, Cappie, Cappie. What are we going to do with you? He has proven time and time again that he is immature and doesn't want to grow up, but it was about time that he admitted it. Last season, he was so intent on making things work with Casey, but he just walked away after Spring Break? Not cool. At least he rushed in to apologize. Let's hope that he keeps his word on promising to change and these two can work things out.
So, this is now the beginning of the end, as Greek has started its final season. Will you be sad to see our ZBZ's and KT's leave the party or do you think it's time that our favorite Greeks move out? Sound off now, as you sort through a handful of Greek quotes from the premiere.