The second episode of Lights Out maintained the show's gradual pacing by continuing to set up characters and storylines, while even escalating a few in the process.
Moreover, a Rocky-esque theme song came up during the title credits of "Cakewalk!" Although I'm still not sure how I feel about it, the score fits with the darker theme of the show.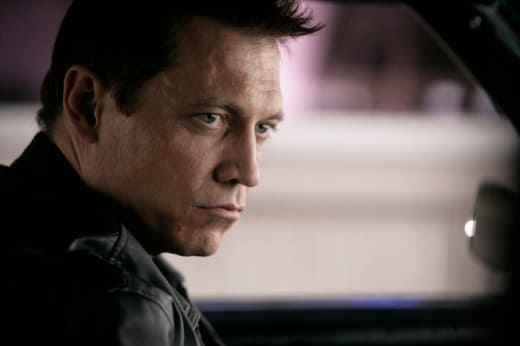 As for developments: Patrick is still dealing with his financial problems. Like the bingo job, he takes on a commercial promo for rugs utilizing his boxing status. It's not nearly as bad as Jimmy Johnson's commercial for Extenze, but it's painful to watch him drop to this level in order to earn money.
At this point, the car's been repossessed, a former friend turned reporter announced on television that Patrick might be in financial trouble, and his payment for the dentist job is not appearing. Things aren't looking good, but Patrick must continue to lie about his difficulties.


It does force Patrick to seek out Hal Brennan, who gives off one creepy vibe. Not only that, Brennan seems to be heavily connected with powerful people, from police to councilmen. It's certainly going to be hard for Patrick to break free, even after completing the second task.
I was a little confused about the job to deliver the "cake" to the councilman. Who was the baker and why was he trying to rob Patrick? Does he work for Brennan? At least it allowed Patrick's charges to be dropped, but Brennan's power clearly runs deep.
Even with all of the problems, stepping into the ring seems to re-energize Patrick. Sparring with his father's new protégé, Omar, Patrick illustrated not only a potential opponent, but also how much skill and ability he still has as a boxer. It was fun watching him swing those punches at the arrogant young fighter. I was hoping he'd hit him with a knockout blow.
It was also nice to see that his daughter, Daniela, worried for Patrick. She even has the confidence to confront her father on his pugilistic dementia. I was glad that for once he didn't lie and instead answered his daughter directly. It's easy to see the bond that he has with his children.
So while I was disappointed Patrick couldn't make it to his daughter's recital, I was shocked at the ending. Not only because I don't know who the baker was, but who shot him? Such a level of violence isn't going to be a good thing for Patrick's future.
This was another solid episode that has me looking forward to more. Hopefully, viewers keep tuning in long enough to see Patrick make his return to the ring.


Sean McKenna was a TV Fanatic Staff Writer. He retired in May of 2017. Follow him on Twitter.