My relationship with No Ordinary Family is sort of a rollercoaster, as some weeks it's spot on with humor and suspense, and others it's rather bland.
Fortunately, "No Ordinary Brother" felt like a fun incline on the coaster, as it continued the theme of the family using their powers to help others. Specifically, Jim's brother, Mike.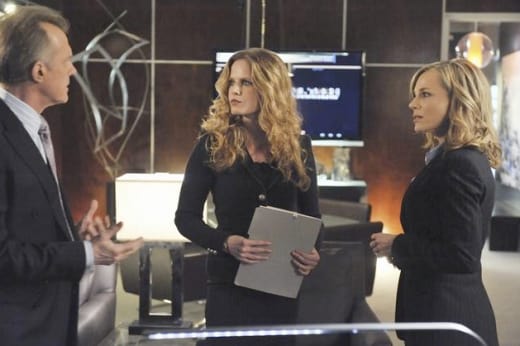 [Photo: ABC]
It's unclear why Jim's sibling would show up by breaking into the Powell's house in the middle of the nightt. That didn't make sense to me, but the unnecessary bat-holding was a nice touch.
I was afraid Mike would end up spilling the family's secrets, but it turned out he was just a very insecure person. Michael Chiklis was especially great during the emotional scene between the siblings.
Elsewhere, Katie is my favorite character. Although I knew the possibility of her character moving to Florida was slim to none, I still found myself hoping she didn't. I'm also finally on Team Joshua (or whatever his name is). I really believe he loves Katie and would have followed her to Miami.
Katie is very smart, which is why I didn't understand how she could just drop the whole issue of Stephanie's journals when he used his powers to erase them. Dr. King is so ruthless, and I can't believe he would kill an innocent person like Katie just to keep Joshua around.
Poor Jim can't hug his son, his brother, or high-five George without nearly killing them, but how badass is George and Jim's new lair?
In closing, I'm very much looking forward to next week's episode, where it looks like Daphne will be getting a love interest and Katie will be cloned by one of Dr. King's super-humans. What did everyone else think?