Everybody has secrets, and the thing about secrets is you don't know what they are. - Jim
On the returning episode of No Ordinary Family, many secrets were revealed, while others were only kept by a drunken Stephanie because she passed out before revealing her power. Overall, "No Ordinary Friends" centered around a couple named the Cottons.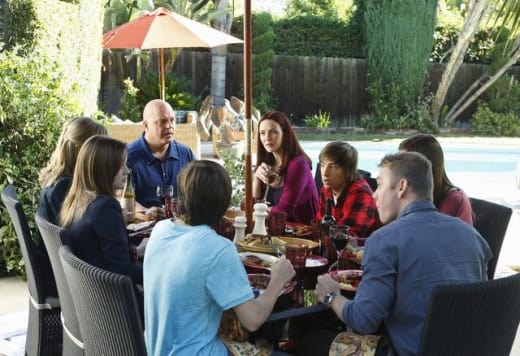 [Photo: ABC]
Daphne's memory was replaced at the start of the hour. It's a good thing she realized what her abilities were because I'm pretty sure they locked in her place as student body president, which the Cotton's daughter convinced her to run for.
JJ became friends, then enemies, and then friends again with Troy, the Cotton's son. As a girl, I'll agree that we do like a bit of a bad boy, knowledge JJ used to get the girl. Troy was convincing as he provoked JJ to fight him for his girlfriend.
We really got to see just how lonely the life of a superhero can get (minus the loyalty of Katie and George) when Stephanie and Jim wanted to befriend the Cottons, merely to be pals with a regular family. Hopefully, the Cotton kids will stick around. Even though Michelle is headed to jail, after all, Dave is innocent.
On another note, Katie lost her virginity to a man whose name she doesn't even know. Joshua really seems to care about Katie, as he told Dr. King she was worth living, even more so than the powers Dr. King was supplying him with. However, I'm excited to know what Katie will do with Stephanie's journal now that she knows Joshua stole it.
Uncle Mike comes to town next week. I can't wait for that. What did you think, TV Fanatics?