Pretty Little Liars returned with a fun new episode this week. While one of our critics has already posted her Moments Later review, more members of our staff have gathered for the latest edition of the TV Fanatic Round Table.
Is Aria handling the Noel situation correctly? How will Emily's parents react to her news? We tackle these questions and more below...
Should Aria tell Ezra about her conversation with Noel?
Matt R: Of course. Has keeping secrets gotten Aria and her friends anywhere positive? If she really wants to make things work with Ezra, she has to be frank about Noel's knowledge.
Steve M: No. What good can come out of it? I foresee Ezra panicking over the revelation and making a false step as a consequence, something neither he nor Aria wants.
Eric H: No way. How could she play the two of them off each other if she did? Use this to your advantage, girl! I'm talking twice the dates, flowers and dinners!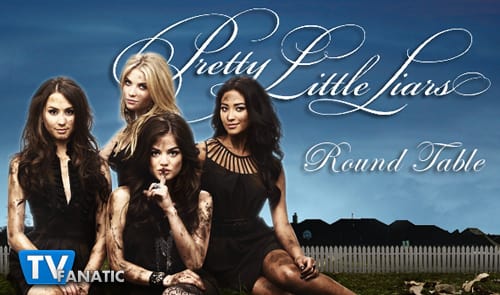 How will Emily's parents handle her sexuality?
Matt R: We already know the general answer: not well. But it's clear Emily's dad is trying to be as understanding as possible. I could see him taking a stand against his wife and this leading to major marital problems for that couple.
Steve M: Two words: boarding school. You saw the look on her mother's face, didn't you? No way she allows her daughter to be openly gay in their hometown.
Eric H: It won't be pretty. Her father will return to service abroad again soon, right? That will leave Emily with a conservative, image-conscious mom. Let's just say I see a lot of sneaking out of bedroom windows in Emily's future.
Will Melissa and Ian's marriage last?
Matt R
: Who cares?!? Can we focus on something a lot more pressing: why is Ian back in town? There's no way he isn't mixed up in all this A-related business.
Steve M: Sure. It will last about as long as each attempt at a relationship by Chuck and Blair on Gossip Girl.
Eric H: No, and here's why: they don't possess a solid nickname. Man? Ielissa? Nothing works.
Give this return episode a grade.
Matt R: B. It was nice to have the gals back in my life, but the show needs to pick up the pace and/or mix things up at some point. Every episode pretty much concludes the say way: with a mysterious message from A. Why are the characters even surprised at this point?
Steve M: A minus. I can't disagree with Matt that the messages from A feel more repetitive than suspenseful at this point. But I wish my fellow Round Tabler would be more patient. Intrigue is building because the series is taking everything nice and slow.
Eric H: A. In honor of the show's main antagonist, of course, Or, perhaps I should say, antagonistS!
Matt Richenthal is the Editor in Chief of TV Fanatic. Follow him on Twitter and on Google+.