It made very little sense for The CW to remake Beverly Hills, 90210.
When the original series premiered in 1990, the concept of a primetime soap opera based around rich teenagers was novel. By the time 90210 aired, however?
Bravo was focusing an entire franchise around wealthy families and the genre was so played out that another CW series (Gossip Girl) essentially served as a parody of it.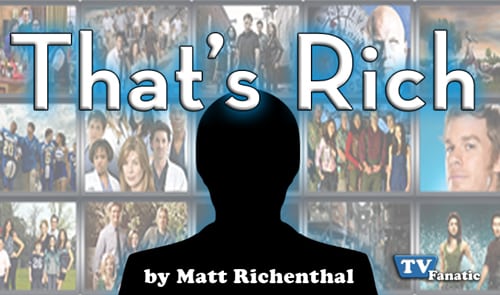 At first, 90210 clearly didn't know what to do with itself. It tried catering to fans of the original by bringing back Jennie Garth (as a guidance counselor, logical enough), Shannen Doherty (for no valid reason) and Tori Spelling (truly, for no valid reason).
After a season, it ditched any connection to the original series and tried focusing on its new, core characters. There was just one problem: none were particularly interesting, and all were just horribly-acted.
On season three, the show has attempted to depict more current, buzz-worth storylines (one character is coming to grips with his sexuality, another is a burgeoning celebrity who often makes references to the paparazzi), but it's also taken a page from the Fox version.
A handful of pages, actually.
Any fan of Steve Sanders and company must have noticed that 90210 is simply stealing material from its predecessor at this point. I'm fine with that. It's what the show should have been doing all along: airing essentially the same storylines for a new generation, tweaked a bit based on changes to society, technology, etc.
Consider these examples:
Annie and Dixon's cousin, Emily, arrived in town this week. She'll soon grow obsessed with Annie and try to steal her identity (See Beverly Hills, 90210, season six, Tara/Kelly.)
Liam injured himself in a fight a few episodes ago, leading to him crashing in Dixon's room and hooking up with Annie. (See Beverly Hills, 90210, season two, Dylan/Brenda.)
Navid is cheating on his girlfriend with one of her best friends. (See Beverly Hills, 90210, season three, Dylan/Brenda/Kelly.)
The show just got rid off all its adults. (See Beverly Hills, 90210, season five, Jim and Cindy move to Hong Kong.)
Over the last few weeks, it's been fun to watch former storylines come back to life. I'm looking forward to the episode in which all of West Beverly chants: "Erin Silver graduates! Erin Silver graduates!"
I'm the editor-in-chief of TV Fanatic. Reach me with any opinions at matt@tvfanatic.com and follow me on Twitter!
Matt Richenthal is the Editor in Chief of TV Fanatic. Follow him on Twitter and on Google+.