I was off my game tonight.
Interesting line that Orwell spoke in "Scales on a Train," especially since you can't really be on your game if you're barely even on the roster.
How many lines did Orwell have tonight? Very few. She's the only real reason to tune into The Cape and the writers/producers are doing themselves a serious disservice not using her more prominently.  The scene at the end between her and Vince, where she asked him about why parents love their kids so much, definitely adds to the notion that she is Fleming's estranged daughter, so hopefully she'll come to the forefront soon.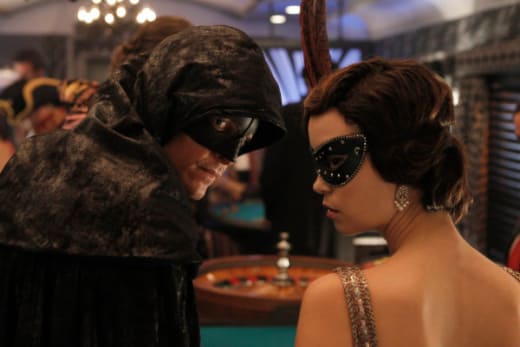 This episode had its moments, particularly wherever Scales showcased his maniacal side.  If nothing else, he's good for a few laughs, such as his interactions with Rollo or his ability to escape a jail cell. He's certainly a more interesting villain than Chess, despite his over-the-top delivery.
Although, I wouldn't object to hearing him say the line:  "I'm the Juggernaut!"
There's something about the flashbacks with Trip and Vince that just doesn't mesh well for me.  They attempt to come across heartfelt, but try as I may, I am not feeling their connection. It's gonna take more than just a few fist bumps and deputizing to convince me.
Trip's expression about his friend's parents divorcing and worry over being separated from his dad was a small glimmer of hope, even if it did feel a little forced. Ultimately, it was sweet when The Cape left him the compass as a gift. 
It doesn't appear that The Cape is ever going to be one of those shows that I eagerly anticipate every week. That said, for mindless, comic-book fare, it's decent, if not a little on the boring side. Okay, A LOT on the boring side.
Jeffrey Kirkpatrick is a TV Fanatic Staff Writer. Follow him on Twitter.