Gossip Girl Review: "It-Girl Happened One Night"
Steve Marsi at .
Dan and Blair took a step closer to moving beyond the friend zone and, dare we say, the Bass Industries story line finally got a little interesting last night on Gossip Girl.
The title, "It-Girl Happened One Night," refers to Serena. Or Raina. W wants to follow an "It Girl" on her Valentine's Day and Blair suggests Raina for selfish reasons.
Serena tells Raina that Blair still has feelings for Chuck, after which she promptly pulls out of the article, setting the stage for vintage Gossip Girl frenemy schemes.
Both Blair and Serena said they're not celebrating Valentine's Day this year - Blair is too busy at work and Serena is "taking it slow" with Ben, hilariously - but we're skeptical.
Ben is looking for a job but can't get one with the whole felony record thing. Dan, who's penned a story about living with his ex's boyfriend, offers to get him a catering gig.
The Bass Industries takeover comprised the bulk of this episode, but unlike the previous few weeks, there were actual implications, personal and romantic, on top of business.
This being Gossip Girl, Ben ended up catering the party Chuck threw to show Russell Thorpe that his name had cachet. Also at the party, his feelings for Raina were revealed.
When Blair finds out Raina backed out because of what Serena told her, she arranges a run-in between Serena and caterer Ben at Chuck's party. He sees her and is very sad.
Why this matters so much to him, we have no idea. Serena dated Dan, his roommate ... who also worked at that catering gig. Also, Lily is married to the rocker father of Dan.
Speaking of Lily's better half, I'm giving him a 9 on the Rufus Uselessness Scale in our Gossip Girl Round Table later this afternoon. I think he had one or two lines this week.
The Captain tells Chuck about Lily and Russell's past, and that Russell plans to break up Bass Industries. In a bold effort to save Bass, Chuck has Lily bounced from the board.
Of course, that was all Russell's plan, and things go doubly bad for Chuck. With Lily off the board, he can proceed with the takeover and divesting of the company more easily.
Meanwhile, Chuck's plans to seduce Raina go awry when she sees what he did to Lily and no longer trusts him. Blair overhears him confess his true feelings to her and is sad.
As much as I don't buy the chemistry or feelings between Chuck and Raina at all, I'll admit the plot line served a purpose: Dan reaching out to comfort Blair gave me the chills.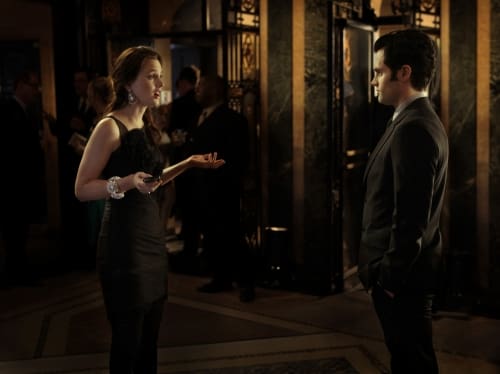 Does he want to be more than platonic? Would she ever go for it? We're left with a bit of mystery there, but there was genuine emotion in that scene and those that followed.
Earlier, Dan had tried to sell the article about Ben and Serena (she certainly provides him with enough material) to W, via Blair. She brushed him off, but she secretly read it.
After the hand-holding, we learn she gave Dan's article to someone at Vanity Fair and actually compliments his writing. We've come so far since her "Dan's a writer?" line.
This week on the Dair front ends with them watching Rosemary's Baby ... in bed! Okay, they were in separate apartments and on the phone. But still, things are progressing.
Did this week change your perception of Dan and Blair at all?
I've enjoyed their banter throughout, but for the first time this year, I find myself on board with the idea of them as a couple, or at least excited to see where we go from here.
Admit it, they're darn cute and they're only becoming more so.
The episode-ending montage is a doozy, too. Serena and Ben kiss at a bar. The Captain gets fired from Thorpe, but kept his access card and passwords, which he gives Chuck.
You gotta love the Captain saying he's "still got it" and proudly admitting he's now an accessory to corporate espionage and who knows what else. Hey, at least he's on our side!
It's never been quite clear why Chuck cared so much about the company, but now that he's been shot down by everyone, it's so on. I smell a NJBC scheme ... business edition!
Finally, Damien lurks in an alley and confronts Eric, who had been doing volunteer work, and blackmails him, threatening to out Lily for perjury over the whole Ben situation.
What Damien has in mind? We'll find out soon enough, but it's Damien. It's gotta be good. Hopefully next week, he gets a story line befitting of a true Gossip Girl villain.
What did you think of "It-Girl Happened One Night"? Should Dan and Blair take it to the next level? Will Chuck and Nate take down Russell? Discuss!
Steve Marsi is the Managing Editor of TV Fanatic. Follow him on Google+ or email him here.