Modern Family Review: A Not So Happy Valenbirthuhhhversary...
Matt Richenthal at .
I took Jay's advice about 30 minutes prior to when he gave it at the conclusion of "Regrets Only" last night, listening closely to the latest episode of Modern Family.
And, for the first time in memory when it comes to this show, I didn't laugh out loud once.
For a few weeks, the series has been teetering close to feeling like a regular sitcom. Sadly, it fell off that edge here, courtesy of a confluence of cliches and set-ups that I've seen a million times before.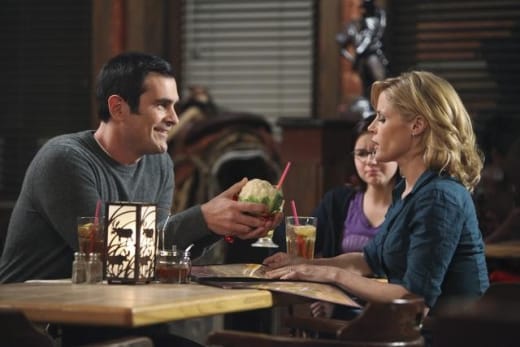 A husband doesn't know why he's fighting with his wife? A character won't stop singing bad karaoke songs? These are far from original storylines. Beyond these developments, Modern Family went so far over the top in an attempt to force laughs that I rolled my eyes instead of slapped my knees.
I mean... a fire extinguisher fight? I expect that sort of nonsense on Two and a Half Men.
Another problem with the episode: the characters have stopped feeling like real people. We get it: Gloria has a shrill voice, Phil can be clueless and Claire is controlling. But is there anything else to these people? It hasn't felt that way for awhile now. There are few funnier moments on television than Ty Burrell in a confused panic (
Happy Valenbirthuhhhversary!
), but it seems to be the only note he plays.
The Mitchell/Cameron storyline was by far the best of the episode, mostly because it delivered the sort of subtle references and jokes I look for from Modern Family. We had Mitchell stepping on the scale while trying to save the party; Luke unaware of how to use redial; and, in my favorite line of the night, Luke, utterly dumbfounded about the question, telling the caterers that he thinks his father is home.
Overall, however, I regret to say that "Regrets Only" tread far too much in played-out character traits and overused sitcom tropes. I'm curious to hear what others think as I publish the Modern Family lines that did at least make me smile:
Cam: What are we going to do?
Luke: I could start a fire.
Cam: No! But keep that in your back pocket. | permalink
Caterer: Hi there. Is your father home?
Luke: I think so. Why? | permalink
Cam: Shouldn't you get back to Donald? That is the name of your cat, right? | permalink
Phil: Happy Valenbirthuhhhversary! | permalink
           Jay: You know, when you get a massage, you sound like a Tijuana prostitute. | permalink
Matt Richenthal is the Editor in Chief of TV Fanatic. Follow him on Twitter and on Google+.