Parks and Recreation Review: Welcome, Twilight Soldiers...
Matt Richenthal at .
To paraphrase Chris Traeger, this was, literally, a mediocre episode of Parks and Recreation. At best.
Granted, "Time Capsule" had the bad luck of following "Flu Season," one of the funniest episodes in show history. But this installment could have proceeded a complete dud and still not registered many laughs for me.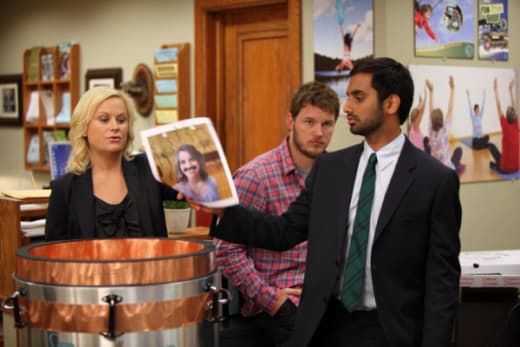 There was simply too much focus on a guest star (Will Forte), and the one-note joke that came along with centering an entire episode around the Twilight Saga. It's not even an original idea at this point. For better or worse, those movies have infiltrated popular culture to such an extent that the storyline felt out-dated.
(To be fair, this episode was filmed with the belief that NBC would air in September, but the jokes wouldn't have felt much fresher four months ago).
Parks and Recreation features too many hilarious characters to include such a gimmick. Just consider the funniest moments from last week's episode: Tom cracking jokes in a hot tub, Andy and Ron hanging out. Stick these staffers into basic situations, merely holding conversations with each other, and it's gold.
Base all of their interactions around the outlandish concept of a man wanting to bury a book inside a time capsule - sorry, I wasn't moved by the revelation that it was for the sake of his daughter - and it feels more forced than anything. It doesn't encapsulate all that makes this show so entertaining.
That doesn't mean there weren't a handful of Parks and Recreation quotes that had me cracking up. I'm not a robot, people! Consider these Pawnee slogans:
Leslie: Pawnee, the Paris of America. Pawnee, the Akron of southwest Indiana. Pawnee, welcome, German soldiers. After the Nazis took France our mayor kind of panicked. Pawnee, the factory fire capital of America. Pawnee, welcome, Vietnamese soldiers. Pawnee, engage with Zorp. For a brief time in the '70s, our town was taken over by a cult. Pawnee, Zorp is dead. Long live Zorp. Pawnee, it's safe to be here now. Pawnee, birthplace of Julia Roberts. That was a lie, she sued and so we had to change it. Pawnee, home of the world famous Julia Roberts lawsuit. Pawnee, welcome, Taliban soldiers. And finally, our current slogan: Pawnee, first in friendship, fourth in obesity. | permalink
Matt Richenthal is the Editor in Chief of TV Fanatic. Follow him on Twitter and on Google+.