Frank owes six grand. We all know the likelihood of him getting the money is on par with him staying sober. So, what's a down on his luck Frank to do? First, sell your girlfriend's husband's watch, then attempt to steal money from a blind homeless man and lastly enter into "hobo fights" for money.
It's at the homeless version of Fight Club that Frank finds his disturbing solution: fake his own death. After all, the thugs who are after him are from out of town... so once it's done it's done, right?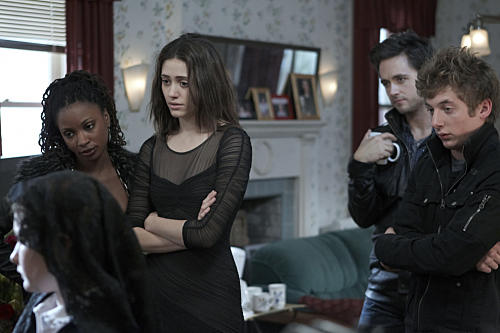 For some reason, Frank's resentful children agree to help him. This show is the epitome of the hate/love relationship. The kids hate this man. He consistently lets them down and opens credit cards in their names, leaving them with debt before they're even 18. Yet, just like they always do, they agree to help him with his latest screw up.
Shameless has a formula. Each week a problem is presented and the whole family gets together to solve it. It's like watching a depraved version of Full House. Sometimes it works, for instance with the missing toddler. However, the fake death was STRETCHING it. Wouldn't the guys have checked the coffin before it was buried? Nonetheless, it's all very entertaining and the actors pull it off brilliantly. 
Something I've realized over the past few episodes is that Frank isn't a total moron. I've even discussed this with friends so I know I'm not totally out of my mind. When you really listen to Frank's rants, he actually makes logical arguments and has a decent sense of the world around him. He's not a total, degenerate idiot. He may act like one, but his dialogue is actually intelligent. 
So what's Frank's back-story? If underneath his filthy appearance there is a semi functioning brain (and dead liver) then there's a reason he became that way. How did that happen? Was it the mother splitting? Can we get a flashback? That's my one issue with Shameless; sometimes I feel like the storylines need to be tightened up.
Ian and Kash's affair has seemed semi-pointless until this week. Kash is completely trapped by his demanding wife and constantly getting mugged by bad-guy Mickey. Mickey steals Kash's gun and a fed-up Ian goes to retrieve it. Ian is about to get a crowbar to the face when Mickey suddenly starts ripping his clothes off and all of a sudden they're boning. (FACT: Ian gets laid the most out of the Gallaghers.)
Okay, so this storyline of Mickey's repressed homosexuality is completely out of left field. The writers are essentially telling us that Mickey has been acting up, bullying and assaulting people all because he's in the closet? I was surprised, but at the same time I wasn't too shocked because I feel like this is a story that's been coming up in a lot of shows lately. For instance: Karofsky/Kurt on Glee. Overused or not, this was a big twist. 
Maybe Ian and Mickey will start hooking up and it'll cause problems with Kash? Kash's wife even told Ian he could do better. The main thing is that it's linking all of the characters together and giving us a better view of the interactions within the Shameless community.
My final thoughts this week are for Miss Fiona. I recognize and empathize with the fact that Fiona's life is tough and she doesn't trust dudes because her dad is such a scumbag, but I cut Steve a break. Leaving Frank in Toronto was probably one of the better things that's been done. If you don't take any time for fun, then you're seriously going to go crazy. Take a cue from my favorite couple, Veronica/Kevin, and start releasing that stress!
I fully agreed when Kevin told Steve that Fiona is used to making all of the decisions and she needs someone to stop asking what she needs and make the choice for her.  Girlfriend needed that hotel getaway. And it has to be said, did anyone else think that the pool from the hotel was also the pool used in Cruel Intentions?
All this said, the preview for next weeks shows Steve might be a cheater. If that's the case, he's going to endure a serious wrath. The Gallaghers are not a family with whom you want to mess.