Aside from permanently ruining all Britney Spears songs ("Hit me with your genie's bottle..."), "Custody Law and Eastern European Diplomacy" was a fantastic episode of Community.
The opening scene provided one of the funniest group exchanges in awhile, with Annie turning a baby shower into an issue of race and Pierce learning to tone down his offense language. When it came to laughter, I didn't feel at all jipped... I mean, Jewish-personed... I mean, let's just move on.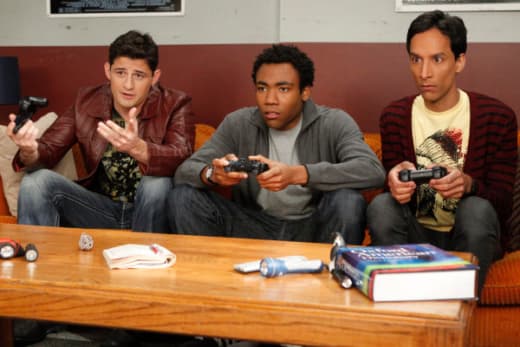 The two storylines served as great showcases for a pair of characters that have been shoved a bit to the side this season: Shirley and Britta.
Yes, the former has been at the center of the sitcom's only real running subplot, but - as my colleague Jeff Kirkpatrick complains about every other waking hour - Yvette Nicole Brown hasn't been given a lot of time to take center stage, despite carrying a baby that may Chang her life.
But the actress was on full display here, juggling comedic timing with legitimate life issues. It's a challenging balancing act, but Brown, much like
Community
overall, pulls it off well. She's been helped by the guest-starring turn of Malcolm Jamal-Warner, with whom Brown shares solid chemistry and whose character was the voice of reason on this episode.
Really, though, that shouldn't be surprising for someone who was raised by Dr. Cliff Huxtable.
Elsewhere, writers have said it took awhile to figure out how to best present Britta. She's an annoying character, after all, but Dan Harmon and company are on record as explaining they finally learned to embrace that irritating side.
It was the entire basis for her storyline this week, with Abed and Troy pleading with her to refrain from boning their new pal for a change, lest he and his nipples abandon their couch like Jeff did. This led to one great scene after another, starting with the Meta T-Shirt of the Year ("It's all downhill from here.") to the aforementioned Britney impression to three simple, drawn out words:
"Maybe............ we .......... do."
Far less absurd than many other episodes, "Custody Law and Eastern European Diplomacy" was full of jokes large (Pierce's racism), small (Chang still uses a VCR?!?) and dangerous (where does he keep getting those saws?). Great stuff all around.
Matt Richenthal is the Editor in Chief of TV Fanatic. Follow him on Twitter and on Google+.