Harry's Law Review: "Send in the Clowns"
Jim Garner at .
In what has to be one of the most mis-named episodes ever, "Send in the Clowns" was suspiciously absent on any form of clowns or even the sassy humor I've grown to like on Harry's Law.
Typically, I really like guest star Richard Kind's work, going back to his work on Spin City and Mad About You. However, had you asked me to describe an ex-boyfriend of Harry, I would not have picked his character of Slumach.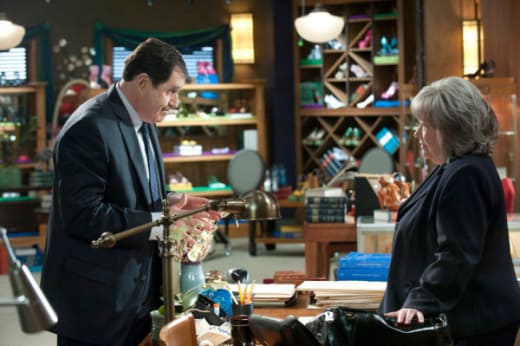 Consider the odd pairing: Harry and her strong integrity and moral character dating a fast-talking loose, moral individual such as Marty. Would a Patent Attorney really end up dating Law Trash?
Then again, maybe it was Kind cast in the role of Marty that really had me scratching my head. I have always seen him in more comedic roles; actually, except for his recent guest appearances on
Burn Notice
, I can't really remember any other serious roles.  
It seems to me that if you are going to cast someone like Kind who has decades of comic knowledge under his belt, you would plan on the character being a bit more in his wheel house. Scenes like him threatening the doctor with a trip to the wood shed and blowing up at Harry, while very well acted, didn't feel natural coming from the actor.
Meanwhile, does anyone else feel like the romance between Malcolm and Jenna has been tacked on to the show the way every restaurant in California sticks a lemon wedge on tea? 
I think David E. Kelly is an amazing writer; but he may be letting an assistant write this sub-plot.  It plays like it was penned by a first-year college student who grew up on 80s teen romance movies.  
Last week, Jenna was mad at Malcolm because he wasn't asking her out. This week, Malcolm is mad at Jenna because she said she tends to date beneath herself. What's next? Is Ducky going to show up to take Jenna to the prom? Is Malcolm going to admit he is still in love with his ex-girlfriend who gave him a pen when he gave her his heart?
To round out my confusion and disappointment with this episode, we have the last scene of Kathy Bates doing a monologue. First, it made no sense in the context with regards to the people that they flashed to. Second, it did not fit within the context of the case she worked on or the one Adam took.  
What was the point of Harry walking down the street talking about the people we meet and showing two regular cast members and two guest stars? It seemed like it was a dramatic build up, and then... nothing. No pay off, just confusion. Had the credits not rolled at that moment I would have thought the show got cut off. 
What did you think? Who would you pick to play Marty? Or were you satisfied with Kind in the role?
Jim G. is a TV Fanatic Staff Writer. Follow him on Twitter.